How to use Tap View and Multi View
Last Update date :
Nov 24. 2020
Tap View and Multi View are handy features for screen sharing. Tap View allows you to mirror your phone with just one tap on the TV, and Multi View provides you with endless possibilities for splitting screens and viewing several types of content at the same time. Users can divide desired contents into large and diverse screens.
Tap your phone to mirror on the TV
If you want to transfer contents such as photos and videos from your mobile device to the TV, just bring it close to the TV. When you tap a little, it is mirrored right away, and this is all of Tap View. Easier, faster, more convenient, and easier screen mirroring with no need to access a Wi-Fi network or data to share a fun experience in your daily life.
Make sure to tap gently so you don't accidentally damage the devices and avoid tapping your device on the corner of the TV or directly on the TV screen. You can add a protective case to your phone for extra security if needed. For best results, you should tap on the top or side of your TV.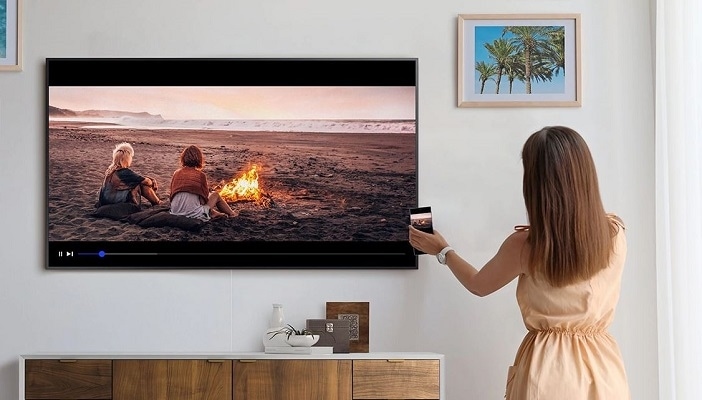 Note: Only available from TU7000 and above TV model (Including Lifestyle/Outdoor TV) and Samsung Galaxy models from the launch. (Android 8.1 and above)

How to set up Tap View
In order to use Tap View, you need to turn on the Tap view feature in the SmartThings app on your phone.
Step 1. On your phone, open the mobile SmartThings app, and then tap Menu icon (the three horizontal lines).

Step 2. Tap Settings, and then swipe to Tap view. Tap the switch to turn it on.
Step 3. Bring your phone closer to the TV, and then tap the Allow phone presence detection notification when it appears on your phone screen.
Note:
To use Tap View, update your SmartThings app to version 1.7.45 or higher. It is available to download from Google Play Store or Apple App Store.
When you start mirroring, you need to cancel power saving mode in Power mode.
Make sure that Smart View is allowed on your TV. (Settings > General > External Device Manager > Device Connect Manager > Access Notification)

CAUTION: Make sure to tap gently
To avoid damage the device accidentally, you need to tap gently. Tapping your device on the screen or corner of the TV directly can cause serious damage on the screen. You can add a protective case to your phone for extra security if needed. For best results, you should tap the back of your phone against the top or side of your TV frame.
Do not tap on the screen and the corners.

Have your smartphone case covered and tap lightly on the outer frame.

Multi View on the large screen
The Multi View allows you to simultaneously play two contents on your TV. On the left screen, you can watch media from various sources such as STB, tv tuner, apps, Blu-ray players or game console while mirroring your phone on the right screen. Connect your device and customize size and audio settings as you desired. Multi-tasking on the large screen is easy and simple.
Note: Only available from TU8500 (NIKE-L) and above model.
How to use Multi View
The method of using Multi View is different depending on which device is connected to the TV.

For example, in order to watch the screen of a mobile device or a PC in Multi View, just connect the device with mirroring (Different by OS: Smart View/Screen mirroring/Airplay2/Project to a screen). Also, If you want to watch the screen of external device such as game console in Multi View, go to Select Content Menu and select the device from the list. You can see more Multi View screen combinations below, and you can also select and set the contents of each screen by selecting the right and left screens.
Select Content: Choose the content that will be displayed on the left or right side of the screen.
Watch Mobile/Camera: Mirror or cast your phone's content to the TV screen through Smart View/Screen mirror button on Android mobile or Airplay2 button from iOS device. Mirror Laptop/PC screen through Project to a screen feature. Select connected SmartThings camera or you can select a connected Webcam.
Screen Size: Adjust the sizes for both screens to suit your viewing preference. For instance, you can place the smaller window in the top right corner or use split screen view to see both screens equally.
PIP (Picture in Picture) Position: Select the position of the smaller screen when it's displayed on the main screen. You can choose the top left and top right corners or the bottom left and bottom right corners for the smaller screen. If you don't like where you placed the smaller screen, you can always change it later.
Sound Output: Connect your Bluetooth/Wireless sound devices for each window. 2 people can enjoy each screen by connecting their earbuds/headphones to each screen.
Sound Distribution: Select this option to hear the audio from both screens at once. The TV and external device speakers will play sound simultaneously.

Note: Device screenshots and menu are just a sample in English, but it is available in the language of your country.

Screen type of Multi View

Mobile screen: When you mirror a smartphone, you can see the mirrored phone on the right scree of Multi View. You can mirror photos, videos, and messages to enjoy on a larger screen.
TV or PC screen: When you mirror a PC, cast from an TV App, or an IoT camera, Multi View screen is divided evenly. For example, you can play a game on the left screen while watching a game tutorial video from your laptop on the tight screen.
PIP screen: You can also set to PIP(Picture in Picture) to see other interesting content on a small screen while watching a movie or sport.

To switch to full screen, select one of the Multi View screens and press the select button. Now you can control the apps and sources.
To return to the previous multi screen, press and hold Back key on your remote.
To finish the Multi View completely, press and hold Back key on your remote while you have a focus either side.

Note: If you want to YouTube casting videos always in full screen mode, you can change the setting. (Setting - General - Smart feature - Auto Run Multi View Casting 'Off')
Screen combinations
You can use a different combination of sources depending on what kind of Samsung TV you have.

QLED TVs
On the left screen: You can play TV Tuner, HDMI devices, or some of TV apps.
On the right screen: You can screen mirror(Android)/Airplay2(iOS), cast your phone or select connected camera. 
UHD TVs
On the left screen: You can play TV Tuner, or HDMI devices.
On the right screen: You can screen mirror(Android) your phone.
Supported Mobiles/Devices
Supports Screen Mirroring compatible devices including smart phones or tablets. (Android 4.2 and higher)
Supports Airplay 2 compatible devices including iPhone, iPad, iPod touch or Mac book.
​Laptops/PCs with Windows 10
Supported Cameras
Logitech HD Pro Webcam C920
Logitech HD Pro Webcam C920S
Logitech C922 Pro Stream Webcam
Logitech C922X Pro Stream Webcam
Logitech C925E
Logitech C930e
Note: List of supported mobiles and USB cameras can be updated without notice.
Please click the submit button below to share your feedback with us. Thank you for your participation.
Please answer all questions.