How to install Water Line for Samsung Refrigerator
Last Update date :
Nov 19. 2020
Please note: 
• Water line must be connected to potable water only
• If the Refrigerator is installed in area with low water pressure (below 20psi), a booster pump should be installed to compensate for the low pressure
• A universal water supply kit is available at extra cost from the dealer. The Refrigerator manufacturer recommends using a water supply kit containing copper tubing
• A newly-installed water filter cartridge may cause water to briefly spurt from the dispenser
• Before reinstalling the water filter, remove the wine rack (RS2577)
To install the water line, follow these steps:
1
Shut off the main water supply and turn the icemaker off
2
Locate the nearest cold drinking water line
3
Connect to the 3/16" white plastic tube on the back of the refrigerator
4
Slip the compression nut onto the white plastic tube
5
Screw the union into the white plastic tube and tighten the compression nut. Do not overtighten the compression nut
6
Slip the compression sleve and compression nut onto the copper tubing as shown.. Tighten the compression nut onto the union
7
Turn water on and check for any leakage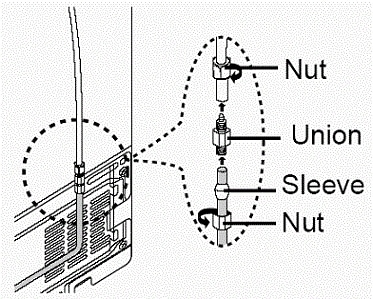 8
Install the water filter
9
Turn on the main water supply & shut-off valve of the water supply line
10
Run water through the dispenser until the water runs clear (6~7 minutes). This will clean the water supply system and clear air from the lines
11
Additional flushing may be required in some households
12
Open the Refrigerator door and check if water leaks around the water filter
Please answer all questions.