Stay Safe,
Stay Healthy
Make your home safer,
cleaner and healthier.



Eco Drum Clean+

99.9%* sanitization with water jet
Eco Drum Clean+ keeps your front load washer hygienically fresh, through a combination of soaking, pulsating and high speed spinning. Without using harsh chemicals or detergent, Samsung's patented technology cleans inside the machine, eliminating 99.9%* of odor-causing bacteria³. The frictional force of a powerful water jet and fast spinning also remove dirt from the rubber door gasket. It even notifies you automatically when it needs cleaning⁴.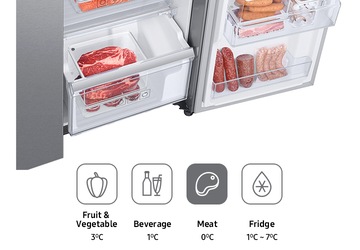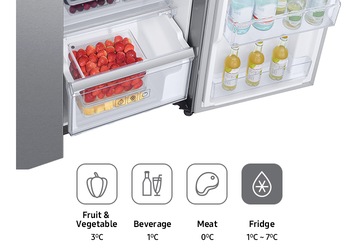 Hygienic rinsing enables deeper cleaning

Hygiene
A Hygiene option can be activated with certain programs to get everything hygienically clean. It extends the final rinse and increases the water temperature to 70˚C, which enables deeper cleaning. So your dishes, cutlery and cooking utensils are always safe to use.



Breathe easier with triple air care

Tri-Care Filter

Keep the air hygienic and maintain the Heat Exchanger's performance with a Tri-Care Filter. Its 3-layers include a high-density filter that extracts large dust particles, fibers and animal hairs. A Zeolite Coating Filter also captures fine dust, and eliminates viruses**, bacteria and allergens.


* Tested by Korea test lab for anti bacteria & virus, Japan test lab for anti allergy. Data has been measured under specific testing conditions and may vary depending on environmental factors and individual use.
** Staphylococcus aureus, Klebsiella pneumoniae, bacteriophage MS2 virus and Escherichia coli.
Reduces 99% of
ultrafine dust
Ultra Wide PM2.5 Filter

* Tested by china household appliances detection. Based on AR13KVSSLWKST (Size of chamber 30 ㎥)
Easy to clean anti-bacterial filter

Easy Filter Plus

Keep your air conditioner working efficiently with less effort. The Easy Filter Plus is located outside, on the top, so it can easily be taken out and cleaned. Its dense mesh keeps the Heat Exchanger clean and an anti-bacterial coating helps protect you against dangerous airborne contaminants*.


* Tested in Korea test lab. Data has been measured under specific testing conditions and may vary depending on environmental factors and individual use.
Need Help?

Ask our experts for step-by-step instructions on how to install the home appliances yourself.


1. Based on the Intertek Test report Hygiene steam course.
2. Based on BAF test report Hygiene steam course.
3. Eliminates 99.9% of bacteria (Biofilm) from the inside of the washer and removes of dirt from the rubber gasket. Based on testing by Intertek of the Eco Drum Clean+ cycle on the WW8800M.
4. Provides a notification after every 40 cycles.
5. Freshness level based on test results of SLG Prüf- und Zertifizierungs GmbH. Tested on RS6*N8* compared to conventional model RSA1U*.