I'm trying to connect my phone/tablet to my TV but it says 'no device found'
Last Update Date :
Apr 30. 2018
Mirroring your mobile phone or tablet's screen to your TV requires that both sides are capable of making the connection and are compatible. The below article covers common reasons for lack of connection.
Not quite what you're looking for? See more about screen mirroring options and steps here.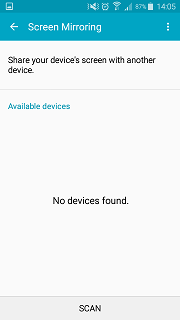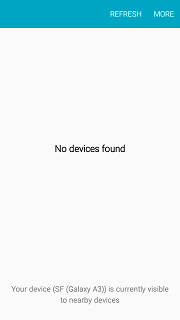 1
Is your TV capable of screen mirroring via a wireless connection?
Older TVs will not have a screen mirroring feature and may not be capable of detecting smart devices. Samsung TVs older than the 2013 F range (i.e. E range or earlier) do not support screen mirroring. You can check the age of your Samsung TV.
If your TV is older and doesn't support screen mirroring, you can still connect your device using an HDMI cable or Allshare Cast Dongle. View steps on how to connect via HDMI here and more about the Allshare Cast Dongle here.
2
Is screen mirroring enabled on your TV?
Even when your TV has a screen mirroring feature and capable of connecting, most TVs will need you to turn on the function in order to connect.
The screen mirroring feature on your Samsung TV can be found either

1. By pressing the Source button on your remote and selecting Screen mirroring OR
2. By pressing Menu->Network->Screen Mirroring
If you are trying to connect your Samsung device to a non-Samsung TV, you will need to check with that manufacturer whether the TV supports screen mirroring.
3
Are your devices on the same Wi-Fi network and is your TV connected to that network?
Your TV will need to be connected to the same Wi-Fi network as your tablet or phone.
You can connect your TV to your wireless network by following the below steps:

1. Press the Menu button
2. Network
3. Network Type
4. Wireless
Note: if your TV connection is wired, you may need to purchase a wireless adaptor and plug this into the USB port on your TV.
5. Network Setup
6. Select a Network
7. Select your network from the list
8. Enter the password
4
Is your phone or tablet compatible with the TV?
Samsung phones, tablets, and smart TVs are capable of picking up connections from other devices but not all devices are compatible with Samsung.
If both your Samsung device and the other device are smart devices and internet-enabled, you may be able to use a third-party app to connect the two.
Alternatively, you may be able to connect via an HDMI cable or use an Allshare Cast to connect HDMI enabled TVs and monitors.
You can also use a streaming device like an Amazon Firestick or Google Chromecast which can act as a go-between between two different devices.
Not finding what you're looking for? We're here to help.
Call
General Inquiries
24 hours a day / 7 days a week
0860 726 7864
Samsung Pay
24 hours a day / 7 days a week
0860 726 623
* For any printer related enquiries please visit the HP website .
Samsung
Support Centre
Smart Service
Samsung SMART SERVICE allows you to experience a whole range of services, right here at our Samsung Experience Store!

Contact Us