HW-F750 46" Soundbar with Valve Amplifier
HW-F750/XU
Sorry! This product is no longer available
Hi-Fi sound quality that's natural and detailed
Fill the room with warm and natural tones produced by the Samsung Soundbar. The Valve Amp filters out unnecessary noise to provide the cleanest and purest of sound. A most natural and enveloping sound will radiate through the room while watching your favourite movie, show or while listening to your favourite song. With the Soundbar and its Valve Amp, you'll hear everything perfectly.
Connect and share wirelessly for double the fun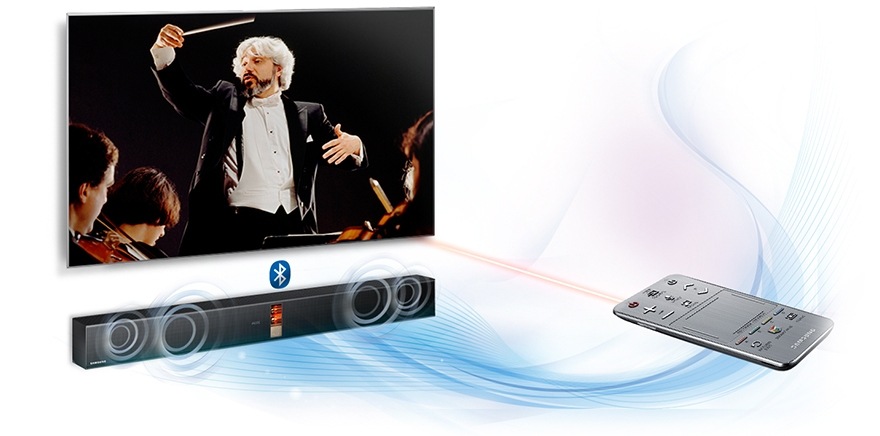 Connect your TV and Soundbar easily through Bluetooth to gain better sound with SoundShare. The absence of trailing wires between the Soundbar and TV allows you to showcase the slim and sleek design of both systems, while maintaining a clean look in your living environment. Easily control the Soundbar and TV from a single TV remote. You can simultaneously turn on and manage the volume of your TV and Soundbar with wireless or HDMI connectivity. * SoundShare is only available for select Samsung 3D TVs. [2013] LED Series 6400 or higher and PDP Series 5500 or higher. [2012] LED Series 6100 or higher and PDP Series 550 or higher.
Stylish black design that matches your TV
Listen and watch as most natural sounds pour out of the sleekly designed Samsung Soundbar. The black design of the Soundbar unifies your décor and perfectly complements a Samsung TV. It will add a touch of sophistication and modern flare to your entertainment components with the gentle glow of the Valve Amp. With a wireless frame, the Soundbar is easy to setup and creates a clean and elegant look while producing amazing sound.
Save time and effort with easy installation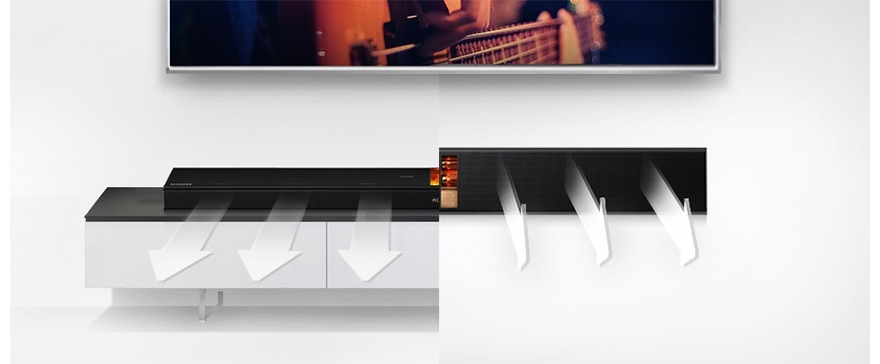 Maximize space by mounting the Sounbar on the wall or place it in front of the TV as a centerpiece. The built-in installation sensor automatically detects the speaker's position and calibrates the sound for maximum output and optimal sound quality. This intelligent sound system is sure to match your style and the highest quality of sound wherever it's placed.
All-encompassing sound from every angle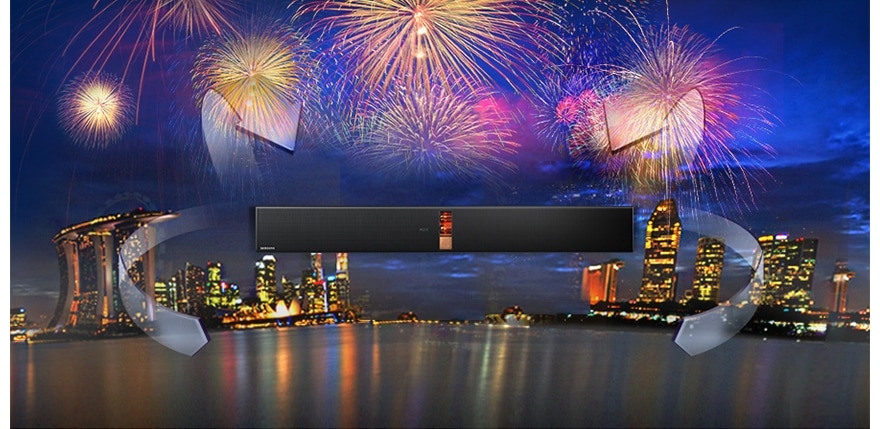 The Samsung Soundbar brings a cinematic experience to your home. 3D Sound Plus synchronizes the sound to match the motion and depth of the image, while new Vertical Surround Sound fills the room from floor to ceiling with powerful realistic sound. The top and front speaker of the Soundbar sends sound that falls from the ceiling and rises from the floor, so you can hear and feel the crackle of a firework as it raises and glistens in the sky. Perfectly depict movies scenes and shows with Vertical Surround Sound of the Soundbar.
How It Stacks Up
Built-in Speaker

Wireless Surround Sound Ready

Music Streaming Service via Bluetooth

Total Power

340W