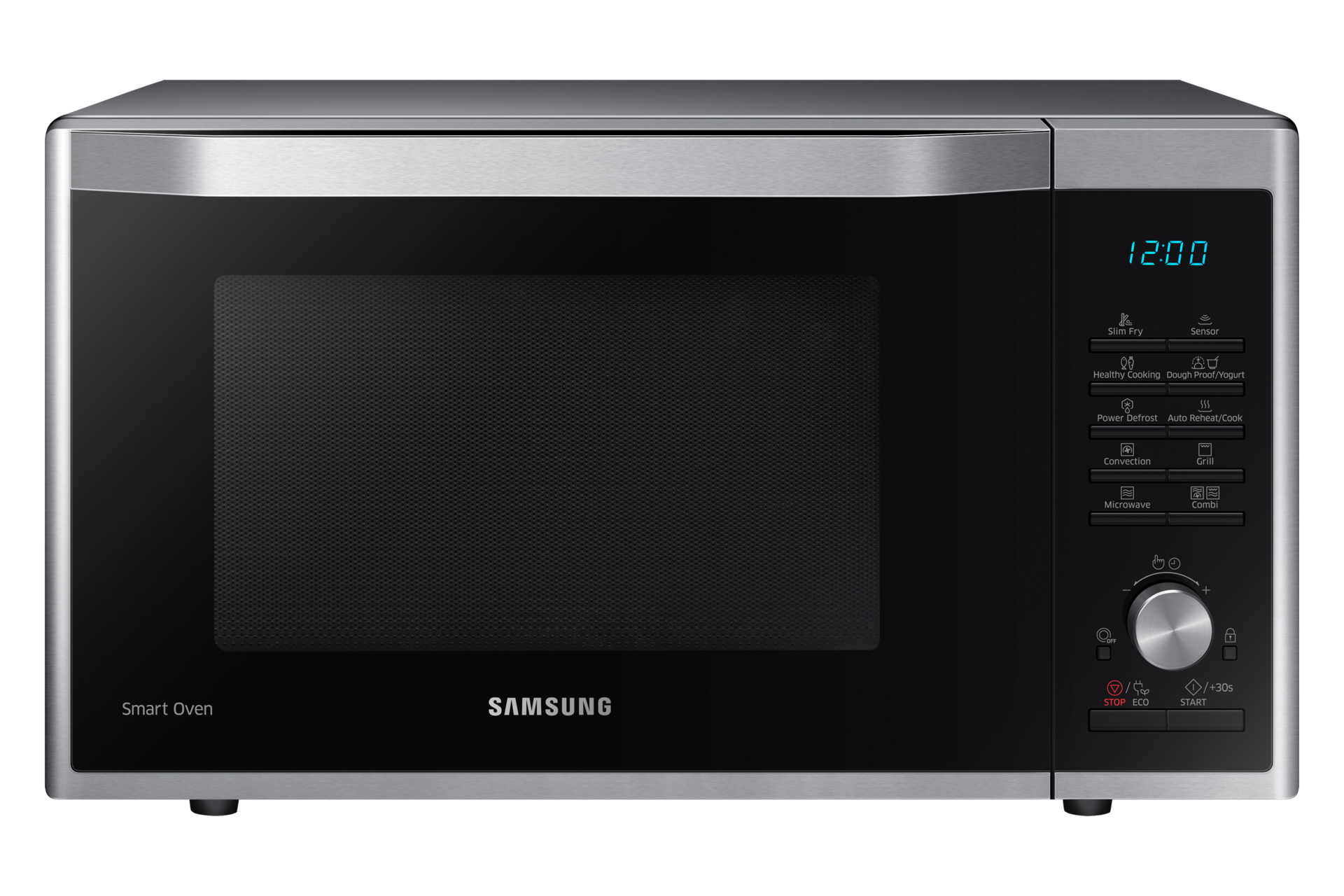 MC32J7035AW 32 Litre Convection Microwave
MC32J7055CT/EU
1.1 cu.ft / 32 Litres
Oven Capacity
1400 W
Power Consumption (Microwave)
523 x 309 x 506 mm
Outside (WxHxD)
Wide Grill
MW7000J Wide Grill enhances grilling and browning effects compared to convection grill heaters. This Wide Grill enables you to cook food more evenly by improving coverage up to 99%.
* Based on Samsung internal test (Compared with Samsung conventional model / Food : toast)
SLIM FRY™
Enjoy healthier fried food without a deep fryer with the MW7000J Smart Oven. SLIM FRY™ technology combines a grill with warm air circulation, so food is cooked crispy inside and out using only a touch of oil.
Smart Moisture Sensor
With the push of a button, Samsung Smart Moisture Sensor determines the interior air humidity, so the cooking mode and time can be automatically adjusted to ensure meals are always cooked perfectly.
Healthy Cooking
Choose from 15 pre-set Cook with Ease menus to prepare perfectly cooked and nutritious homemade dishes, made with fresh ingredients, that are healthy, moist and full of flavour.
Homemade Yoghurt Anytime
Make your own dough and yoghurt anytime, with the Fermentation function, which utilises advanced fermentation technology, without the need for an additional appliance.
Turntable On / Off
Simply disable the turntable to utilise every inch of interior space and accommodate large square dishes. So you can quickly and easily heat larger pans and casseroles.
CERAMIC INSIDE™
The durable CERAMIC INSIDE™ is easy to keep clean and scratch-free. Its smooth surface can be cleaned without scrubbing and won't discolour over time. It's also highly rust and scratch-resistant, so it last longer.
Favourite recipes pre-programmed
Choose from a wide variety of pre-programmed recipes and enjoy your popular flavours at the touch of a button.
Power Defrost
Power Defrost lets you defrost frozen foods quickly and evenly, ensuring that it retains its original freshness and texture. So you can enjoy delicious meat, poultry, fish, bread, cake and fruit whenever you want.
Eco Mode
With the ECO Mode setting, you can reduce standby power consumption by 40% and save on electricity bills.
Convection

Product Type

1.1 cu.ft / 32 Litres

Oven Capacity

1400 W

Power Consumption (Microwave)

523 x 309 x 506 mm

Outside (WxHxD)
How It Stacks Up
Product Type

Convection

Oven Capacity

1.1 cu.ft / 32 Litres

Power Consumption (Microwave)

1400 W

Outside (WxHxD)

523 x 309 x 506 mm