How Creativity and Technology Can
Help You Build a Personal Brand
Tips to make your mark on today's world.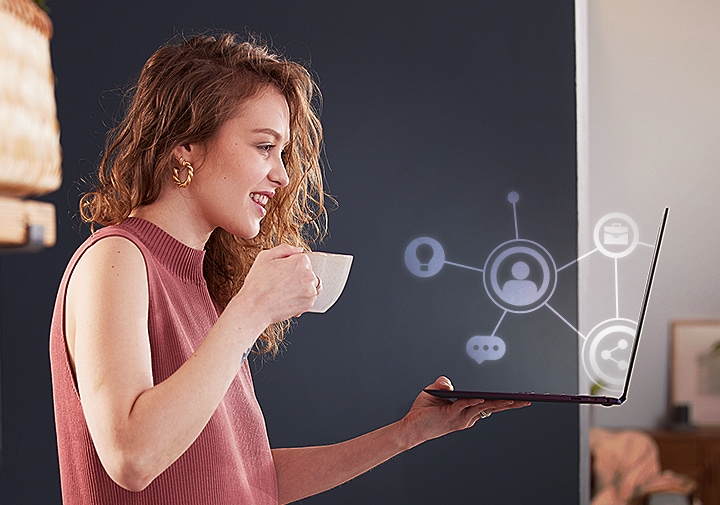 Making a name for ourselves is increasingly important in all walks of life. In an office, building your profile among senior management can help you gain trust and aid progression. Or if you're keen to forge your own path, perhaps you might try to position yourself publicly as an expert or creator in your chosen field, using social media to help seed a following.

As technology forms an omnipresent part of our lives now, inherently human skills – including creativity – will hold more value than ever before. According to the McKinsey Global Institute, demand for higher cognitive skills such as these will rise 10% by 2030.

Far from being opposing forces, human ingenuity and technology can work in harmony to help you find your calling. Whether you're looking to upskill for the future, power up your side hustle or carve your dream career in a particular industry, here's how to fuse your natural creativity with today's tech to build a personal brand.

Figure out how to stand out
The plethora of online ecosystems we have at our fingertips today makes it easier than ever before to cultivate and nurture your own personal brand. Many people are naturally finding their own voice and place online, because there are so many different outlets that allow us to unleash creativity.

Perhaps a year of working from home has empowered you to become comfortable with using your own voice on increasingly popular audiochat platforms. You might read up on industry trends of your sector and share them with colleagues or post to LinkedIn. Maybe you started streaming video games on Twitch initially as a hobby, but accidentally found a loyal audience that turned into a community keen to hear your specific take. Or perhaps you shared your thoughts about a cause that was important to you on Facebook, and the world listened.

Whatever journey you're on right now, there's opportunity for self-expression – or even reinvention. Today, we have access to a wealth of inherently social platforms that actively encourage creativity. A modern smartphone such as the Galaxy S21 Ultra is one of the best ways to help you build a personal profile wherever you seek it – and in many cases is the only tool you need.

Use different creative formats for job applications
You don't have to carve out a traditionally creative career in order to flex your frontal cortex (the part of the brain responsible for creative output). Even if you are not looking to break into an industry such as the arts, showing off your creative talent through various formats may give your job applications fresh vibrancy that will catch the eye of a broad range of employers.

All too often, we let our fear of the unknown stop us from just getting started. Whether it's playing around with the editing suite on your Galaxy Book Pro 360 to create a brilliant personal website or using your Galaxy Tab S7+ to shoot an polished headshot for your LinkedIn profile, having fun with technology a great way to begin building your brand. Your creations don't have to be meticulously executed the first time around – dive in, explore and tweak your personal PR materials as you go along.

Adopt the mindset of an innovator
If you're looking for a job in technology, IT, media, telecommunications, manufacturing or any of the industries leading the way in terms of digital transformation, it pays to be an early adopter of change. From an employee perspective, actively embracing new ideas will enable you to work faster and more easily, so you can help inspire a culture of innovation.

People often fear change – even when it is their best interest – because it can mean losing a piece of our identity or lifestyle. The highly respected Diffusion of Innovation theory by sociologist E.M. Rogers is great background reading for anyone looking to break into future-facing sectors, as it explores how and why some people are more likely to adopt new ideas, behaviours and products. Aim to be one of the first to play around with new tech products – and don't be afraid to share your insights and opinions to cultivate a reputation as a trailblazer.

Dial up community creativity
Building a personal brand, on the surface, can seem like a pretty conceited thing. But times are changing. As a society, we are moving away from a culture that prioritises individualism to one where community, collaboration and the collective are at the forefront. Recent events have shone a spotlight on public services such as healthcare, teaching and social care, and so more and more people are recognising the merit of carving a career in these vital industries.

Today it's easier than ever to meet likeminded people, support worthwhile causes and executive community activism together from anywhere in the world. Try to participate in discussions, focus groups or creative projects that make the world a better place. Tech such as video or audio conferencing software make it easy to actively connect with other people, providing topic fodder for interviews, job applications and more. If your personal dream is about improving the lives of others, there could be no better way to forge your path.

Ready to build your personal brand?
Here's everything you need.