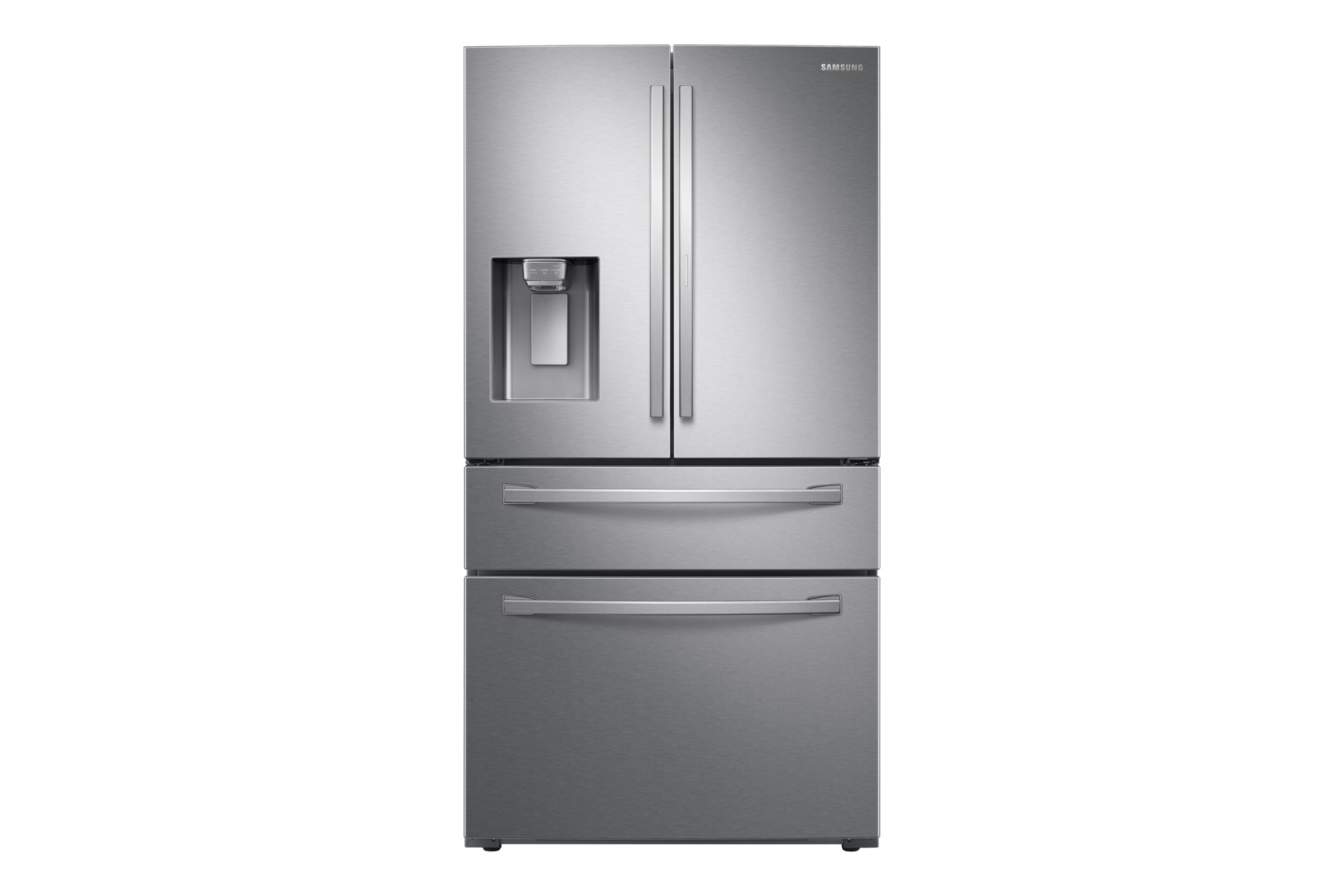 Samsung RF22R75351SR/EU French Style Fridge Freezer with Food Showcase Door
RF22R7351SR/EU
FlexZone™ with Smart Divider
Twin Cooling Plus™
Sleek simple design
Food Showcase with Metal Cooling Door
Make Your Own Rules
FlexZone™ with a upgraded Smart Divider & Lock
Now you're in control of making sure your food is properly chilled. Four settings let you choose the perfect temperature for whatever you're storing – ideal for meat and fish, storing deli items, chilling wine or cooling beverages.
Fresh as a daisy
Twin Cooling Plus™
Wouldn't it be good if all your food in the fridge stayed fresher for longer? With two separate air flows and precise temperature control, Samsung Twin Cooling Plus™ does just that. So no more dried out vegetables or rubbery cheese. Not only that, but it stops food odours mixing, so your food tastes the way its meant to.
Sleek & Seamless Design
Modern Simple Design
Enjoy a sleek and simple design. The Sleek Edge Doors have a sophisticated and timeless style that is accentuated by a minimalist ice and water dispenser and New Edge Handles. These elements blend seamlessly and harmoniously with any kitchen interior.
Get Hands On
Fingerprint resistant
Helps to reduce smudges and fingerprints so it always looks its best.
Ready when you are
Enjoy refreshingly cold water without waiting for it to be chilled. The Autofill Pitcher is automatically filled with filtered water when you place it inside the fridge. You can even fill the infuser with fruits or herbs to create refreshing flavoured water.
* Optional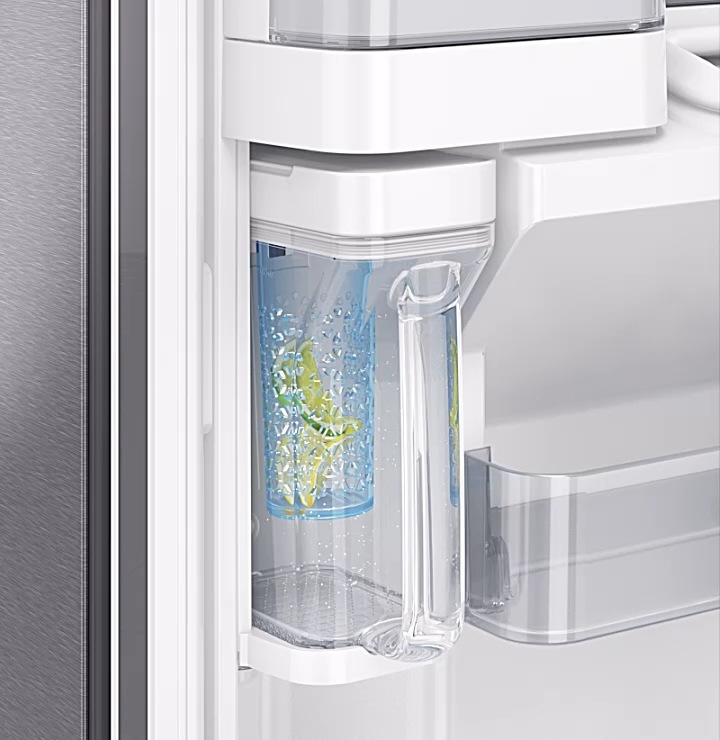 Always-On Ice
Ice Master
Love ice, but don't love how much room it takes in your freezer? The streamlined design of the Ice Master makes all the ice you need, so you'll never go short. Plus you won't lose precious shelf space for your frozen favourites either.
Gently does It
Open the mid and freezer drawers with a gentle pull using the EZ-OpenTM Handles. Simply lift up the handle and it breaks the door's vacuum seal. The drawer will glide open without having to pull hard— ideal for when you've only got one hand spare. But the latch keeps the door securely shut.
Open Up a Little
For your everyday go-to items, you don't even need to open the main door. The innovative ShowCase Door gives you speedy access. Grab and go with less cool air escaping. The Metal Cooling Door gives you a flash of style every time you open up.
Whatever You Say Goes
Bixby
Bixby enabled smart technology helps you control your refrigerator anytime, anywhere. With the embedded Wi-Fi, You can easily check the temperature, get alerts if the door is left open and even read or write memos using a smartphone App*. It will also detect and help you diagnose issues.
* Available on Android and iOS devices. A Wi-Fi connection is required.
* Available on Android and iOS devices. A Wi-Fi connection is required.
501L

Net Total (Litre)

123L

Net Freezer (Litre)

378L

Net Fridge (Litre)

908mm

Net Width (mm)

1777mm

Net Height (mm)

726mm

Net Depth without Door Handle (mm)
How It Stacks Up
FlexZone™ with Smart Divider

Twin Cooling Plus™

Sleek simple design

Food Showcase with Metal Cooling Door
Triple Cooling™

Metal Cooling Panel

Net Total(Litre)

564 ℓ

Net Width(mm)

908 mm