How to use print preview?
Last Update date :
Oct 13. 2020
Previewing and printing a webpage in Internet Explorer 9
1. <![endif]>Open Internet Explorer by clicking the Start button . In the search box, type Internet Explorer, and then click Internet Explorer in the list of results.
2. <![endif]>Go to the page you want to print.
3. Go to the right corner of your IE9 browser and find a print icon as shown below

4. As you click on the icon, you will find the following option
click on print preview to see if the set up is fine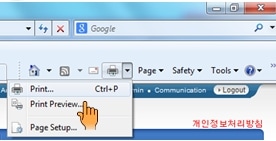 5. If you want to print a specific page, click the Next Page button

or the Previous Page button
to find the page, and then click the Print Document button

6. In the Print dialog box, do one or more of the following actions :
● To Print the single page you're viewing in Print Preview, click Current Page under Page Range.
● To print all the pages, click All under Page Range.
● To print several pages in a row, type the first and last page, separated by a dash (for example, 2-7) under [Page Range] in the Pages text box.
7. Click the Print button.
NOTE : Press the key at any time to exit the Print Preview or the Print dialog box without printing. If you go to a webpage and open the Print Preview before the page is fully loaded in the browser, the page will appear blank in Print Preview.
Please answer all questions.