What is Compatibility View in Internet Explorer 9?
Last Update date :
Oct 13. 2020
Websites that were designed for earlier versions of Windows Internet Explorer might not display correctly in Internet Explorer 9. However, you can often improve how a website will look by using a feature called Compatibility View.
When you turn on Compatibility View, the website you're viewing will be displayed as if you are using an earlier version of Internet Explorer.
If Internet Explorer recognizes a webpage that isn't compatible, you can change the settings to view the website accordingly by going to page option << compatibility view settings as shown below :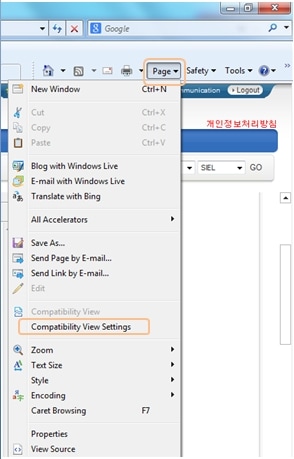 From now on, whenever you visit this website, it will be displayed in Compatibility View. However, if the website receives updates that will display it correctly in the current version of Internet Explorer, Compatibility View will automatically turn off.
NOTE : Not all website display problems are caused by browser incompatibility. Interrupted Internet connections, heavy traffic or problems with the website can also affect how a webpage is displayed.
Please click the submit button below to share your feedback with us. Thank you for your participation.
Please answer all questions.