What is DNIe technology?
Last Update date :
Oct 13. 2020
Samsung's Digital Natural Image engine (DNIe) is a set of four advanced image processing technologies that makes digital TVs, including various types of displays such as LCD, PDP, projection, and CRT, produce the clearest, most detailed, and yet most natural-looking images ever.

The four technologies used by DNIe are:

Motion Optimiser: Eliminates noise, even in moving pictures
Contrast Enhancer: Increases the contrast
Detail Enhancer: Sharpens pictures and makes details visible
Color Optimiser: Provides natural and vibrant colours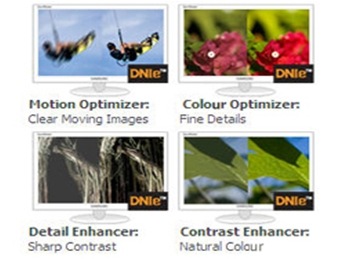 (Above example showing the four technologies)

The secret of DNIe TM begins with an Intelligent Analyser that analyses any kind of input signal to optimise the picture quality. It analyses the frequency characteristics of the input signal and automatically detects the noise in signal.

Through this analysis of the input signal at the first stage of the DNIe TM process, the Intelligent Analyser ensures that the optimal adjustments is made throughout the remaining four stages to the production of the final output.

DNIe technology is not only suitable for all usual input signals for television reception today, such as analogue, cable, satellite and digital, it also works with the input signals of DVD, camcorders and game computers.
Please click the submit button below to share your feedback with us. Thank you for your participation.
Please answer all questions.