Optimize your sound experience with your Galaxy Buds
Last Update date :
Oct 29. 2020
There are a variety of ways to adjust the sound options on your Galaxy Buds or Galaxy Buds+, so you'll always hear things your way. Whether you have hearing difficulties or just want to get a better experience when listening to music or a podcast, your earbuds will have an audio setting that's perfect for you.
Information provided applies to devices sold in India. Available screens and settings may vary for earbuds sold in other countries. You should clean and adjust your earbuds before and after use for the best sound possible. Earbuds that fit properly and are free of debris will perform better while providing you with a comfortable experience. You can try using larger ear tips if the earbuds are not fitting correctly.
Sound settings for the Galaxy Buds and Galaxy Buds+
Once your earbuds are connected to the Galaxy Wearable app if your device is running Android or the Galaxy Buds+ app if you have an iOS device. You'll have an array of sound settings at your disposal.

On the app's Home screen you can choose different Equalizer settings. Drag the slider to change the settings from Normal, Bass boost, Soft, Dynamic, Clear, or Treble boost. If you aren't happy with your choice, simply tap another option to set it.

You will also be able to control advanced options for Ambient sound when you're on a call or listening to music. On top of this, you can access sound options directly using your device's advanced audio settings, or when connecting to a TV or a computer. To use even more features on your Galaxy phone, enable Dolby Atmos for cinema quality sound.

Additional sound options are available when you connect to your Galaxy watch as well, like managing the sound output and vibration.
Special sound settings for the Galaxy Buds+
Use the Galaxy Wearable app if your device is running Android or the Galaxy Buds+ app if you have an iOS device. The Galaxy Buds+ have some new sound features that are not available on any other devices, such as Gaming mode and being able to launch Spotify with the touchpad.

To access experimental sound features, swipe up on the Galaxy Wearable's Home screen, and then tap Labs. Tap the switch next to "Double tap earbud edge" to control the volume using the earbud edges. If your touchpads have been set for Spotify, Voice command, or Ambient mode, you'll still be able to adjust the volume with the earbud edges. To increase ambient sound's volume, tap the switch next to "Extra-high ambient volume". This setting will become available under Ambient sound if you're using a music app or answering calls (tap Back, and then tap Ambient sound to access it).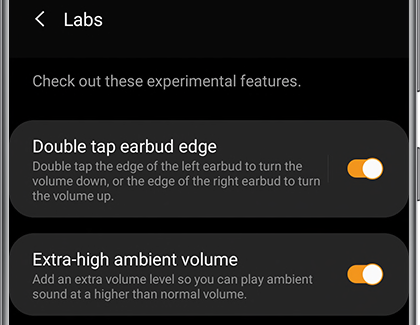 You can adjust the audio delay by tapping the switch next to "Gaming mode", so you'll only hear what you're playing. For the best results, keep your phone close while wearing your earbuds, and disable the feature when you are not playing a game. This will minimize external audio sounds. Gaming mode is only available on Samsung mobile devices that use an Android OS.

Automatic sound switching
When you're working and listening to music, you may only want to wear one earbud in case someone needs to speak with you. Automatic sound switching on Galaxy Buds was made for this kind of flexibility. The best part about using automatic sound switching is there are no settings to adjust. The Galaxy Buds will automatically switch the sound output to mono or stereo, based on how many earbuds are in the charging case.

For example, if you choose to use only one earbud, the sound output will switch from stereo to mono automatically. If you place both Galaxy Buds into the charging case, the music will stop. When you're using one earbud, make sure to place the other earbud in the charging case to avoid losing it and prevent battery drain or device errors.

Please answer all questions.