How to configure Microsoft Exchange E-mail account in Samsung Galaxy Tab 2 7.0(GT-P3100)?
Last Update date :
Oct 12. 2020
STEP 1. GETTING STARTED
NOTE: Before starting with this setting , you need to make sure you have a High Speed Internet connection.
a). Tap on Applications as shown below.
b). Now , Tap on E-mail option .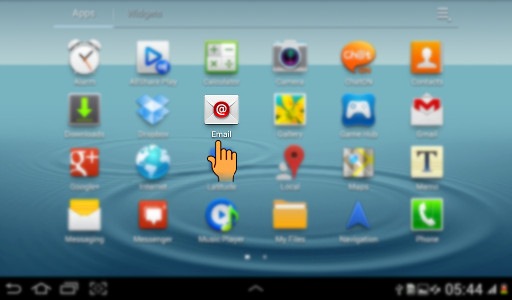 STEP 2. SETTING UP E-MAIL
c). Set-up Mail window will appear. Here , Type the E-mail Id along with the password. Now , Tap on Manual Set-up as shown below.
d). A window will appear which will ask you to select the type of account with which you want to configure your E-mail . Tap on Microsoft Exchange ActiveSync .
e). The Exchange server settings window will now appear. Type the Domain\User name , Password along with the Server address under Exchange server box.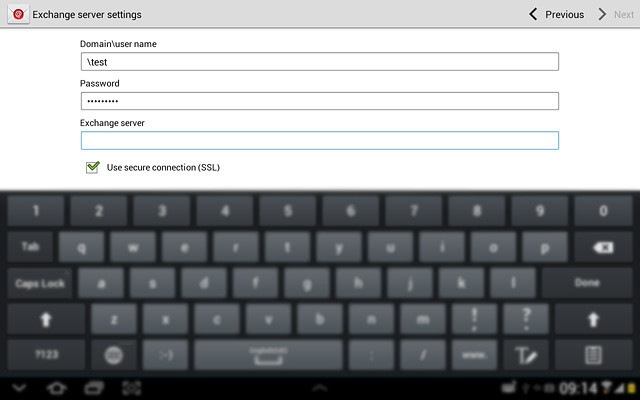 STEP 3. READING CLIENT CERTIFICATE
f). Make sure Use client certificate and Use secure connection (SSL) are enabled. Tap Client certificate option to follow the instructions on the display to install the required certificate.
NOTE: Enabling SSL encryption protects your email messages when sending and receiving email messages.
g). Now , Tap Next as shown below.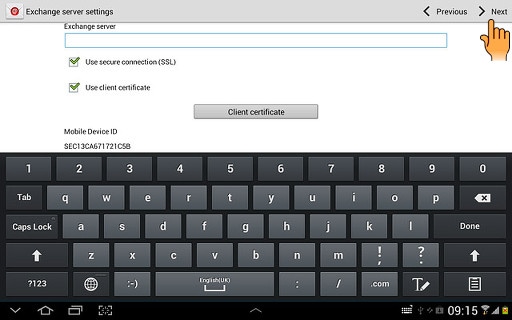 STEP 4. SELECTING THE ACCOUNT OPTIONS
h). Account option window will appear .Tap on Peak schedule to change the type of the schedule.
i). The Drop-Down menu will appear as shown below. Tap on Push as shown below. Similarly , perform these two steps for other options namely Off-Peak schedule and Period to Sync E-mail.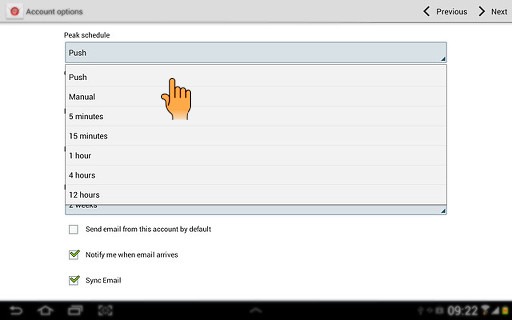 j). Now Tap on Emails retrieval size to open the Drop-Down menu as shown below.
k). Under Drop-Down menu , Tap on the type of size (For example: 2 KB) for retrieval as shown below.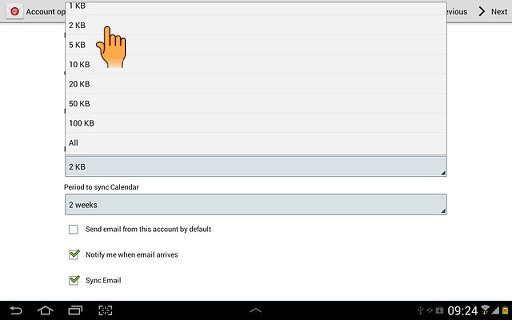 STEP 5. COMPLETING WITH THE SETTINGS
l). Make sure that all the options are enabled as shown below. Now , Tap Next.
m). A window gets opened which urges you to provide this account a name. Once you have written the account name as shown below. Tap Done.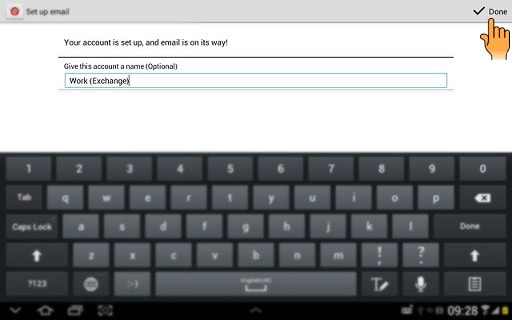 Please answer all questions.