How to connect to a Wired Internet Network Manually in Samsung H series TV?
Last Update date :
Oct 12. 2020
STEP 1. ACCESSING NETWORK SETTINGS
a). To begin, press the MENU button.
b). To connect the wired internet network manually, select Network.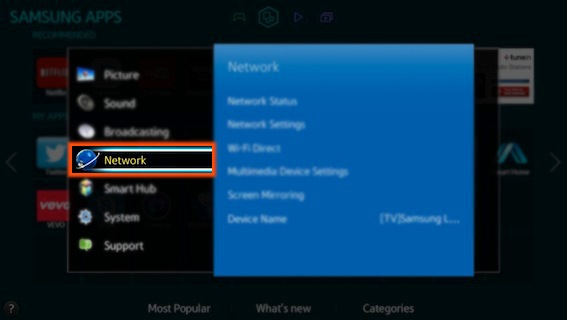 c). Select Network Settings.
STEP 2. SELECTING A WIRED NETWORK
d). Set the Network type to Wired, and then select Connect.
e). Select Stop when the TV Attempts to connect to the network.
f). Once the network connection has been interrupted, select IP Settings.
STEP 3. CONFIGURING IP SETTINGS
g). In the IP Settings screen, select IP Setting.
h). Select Enter manually.
i). After the IP Setting has been changed to Enter manually, select IP Address.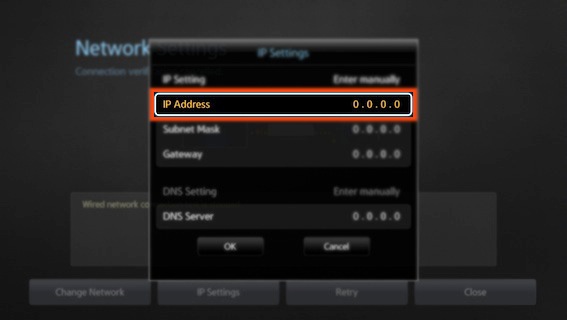 STEP 4. ENTERING VALUES OF NETWORK
j). When the IP Address entry window appears, enter three digits into each field on the IP address line.
NOTE : If the value has less than three digits, add leading zeroes.
k). After three digits have been entered in a field, the highlight automatically jumps to the next field.
l). Repeat the process for Subnet Mask, Gateway, and DNS Server.
STEP 5. COMPLETING THE SETUP
m). When done, select OK.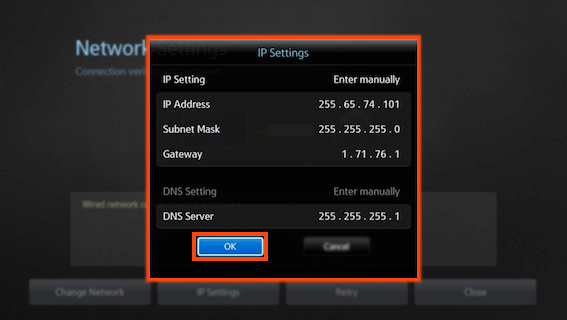 n). The TV attempts to connect to the network again using the settings you entered. Once it has established the connection, it displays a confirmation message. "You are connected to the Internet".