Setting up washing machine; Removing the shipping bolts
Last Update date :
Aug 10. 2022
Please Note: The information on this page is for New Zealand products only. Sequences or settings will vary depending on location and/or where the product had been purchased. To be redirected to your local support page please click here.

Samsung Front-loader washing machines uses a suspension system to support the washtub while it agitates and spins, However the system isn't designed to withstand the strain of moving. The shipping bolts keep the tub secure during a move and reduce the amount of vibration that could cause damage to the suspension.
Before installing the washing machine, it is required that you remove all shipping bolts from the back of the unit. If this has not been done prior to using the machine, the suspension inside of the washing machine will not be able to work.
For steps on how to remove the shipping bolts, see below: 
1
Loosen all of the bolts with the supplied wrench.

2
Hold the bolt with the spanner and pull it through the wide section of the hole. Repeat for each bolt.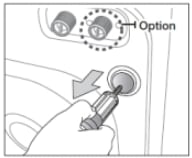 3
Fill the holes with the supplied plastic covers.
4
Store the shipping bolts away safely in case you need to move the washing machine in the future.
WARNING
Packaging materials can be dangerous to children. Dispose all packaging material (plastic bags, polystyrene, etc.) out of children's reach.
You can download the user manual from our Manuals & Downloads page. For all other queries or further technical assistance, please call Samsung Customer Care on 0800 726 786 or Live Chat with our Technical Team online, services are open 24 hours, 7 days.
Please click the submit button below to share your feedback with us. Thank you for your participation.
Please answer all questions.