Connecting devices using Wi-Fi Direct
Last Update date :
Nov 10. 2021
Please Note: The information on this page is for New Zealand products only. Sequences or settings will vary depending on location and/or where the product had been purchased. To be redirected to your local support page please click here.

Wi-Fi Direct is a wireless technology that allows two devices to establish a direct, peer-to-peer Wi-Fi connection without requiring a wireless router. It's like Bluetooth in that you need to introduce each Wi-Fi Direct capable device to the other and create a connection. This means users on the go can print documents, share data, sync files, and display information from notebooks and netbooks, as well as from devices like smartphones and tablets. Products certified Wi-Fi Direct can connect to other wireless devices without joining a traditional wireless network or Wi-Fi hotspot. 
Learn how to use Wi-Fi Direct feature to connect two devices via WLAN without requiring an access point. To connect devices using Wi-Fi Direct, follow the below steps:

Steps shown are on Android 9.0 
1
Open Settings on you device and Select Wi-Fi
Ensure your Wi-Fi is enabled as you will need to turn this setting on to access your Wi-Fi Direct settings as well as share files wirelessly.
2
Tap Wi-Fi Direct. The device will scan for Wi-Fi Direct devices automatically.
3
Locate and select the device you would like to connect to.
Ensure the both devices have turned on the Wi-Fi Settings so the two can successfully locate each other.
4
The other device will receive an Invitation to connect, Tap Accept for the connection to be made.
All the available devices will show on the WiFi Direct list. 
Use Wi-Fi direct on a Samsung TV
With Wi-Fi Direct you can directly connect a mobile device to the TV without an existing Wi-Fi network. You can stream media files from the mobile device onto the TV. Show your photos up on the TV screen to share with friends and family, or watch your favourite videos from Youtube.
Both the TV and mobile device must have Wi-Fi direct for this feature to work. An easy way to tell if your TV has Wi-Fi direct is if you have the Wi-Fi direct option in your settings (see below). How to check the Wi-Fi direct option on most Samsung mobile devices can be found on What is Wi-Fi Direct used for?
To use Wi-Fi Direct on a Samsung TV follow the steps below:
1
Enable Wi-Fi Direct on your Samsung TV by selecting Menu > Network > Wi-Fi Direct.
2
Enable Wi-Fi Direct on the mobile device. The TV will automatically scan for and displays a list of available devices. The TV name will also appears on the mobile device.
3
Select the device from the list to initiate a connection. If a connection request is made by the TV, a permission message appears on the mobile device and vice versa. Accept the request to connect the mobile device to the TV.
Project your Windows 10 PC to a TV
You can also mirror your Windows 10 PC's screen to a TV even if you don't have the Smart View app installed on it. That's right, the software is built right into the PC itself.
This feature is great if you want to display a PowerPoint or a document on a bigger screen without having to worry about cables or wires.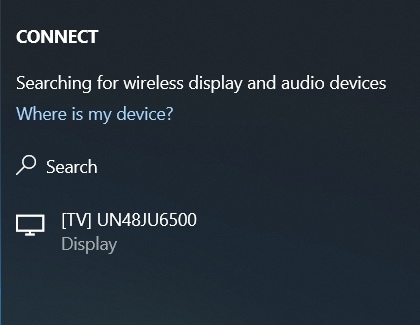 You can download the user manual from our Manuals & Downloads page. For all other queries or further technical assistance, please call Samsung Customer Care on 0800 726 786 or Live Chat with our Technical Team online, services are open 24 hours, 7 days.
Please click the submit button below to share your feedback with us. Thank you for your participation.
Please answer all questions.