How can I backup data on my Galaxy device automatically?
Last Update date :
Nov 23. 2020
Creating a backup of your smartphone data keeps you safe, just in case the worst happens. You can even set your smartphone to create backups automatically, ensuring that your data is secure around the clock. Find out more on how easy backing up your data is by using Samsung Cloud. 
Before you try out below recommendations as to your solutions, be sure to check if your device's software and related apps are updated with latest version. Please check how to update your mobile device's software in following order.  
Step 1. Go to Settings > Software update.
Step 2. Tap on Download and install. 
Step 3. Follow the on-screen instructions. 
Data that can be backed up using Samsung Cloud automatically
Manage the content that you want to store securely in Samsung Cloud. You can backup data such as: 
Calendar, Contacts, Phone, Clock: Alarms, Home screen, Apps, Settings, Messages, Music, Voice Recorder, Documents
How to back up data automatically
Auto back up automatically backs up your data once every 24 hours. However, for this, your phone must be charged, connected to Wi-Fi, and the screen must be off for at least an hour.
Step 1. Go to Settings > Accounts and backup.
Step 2. Tap Samsung Cloud.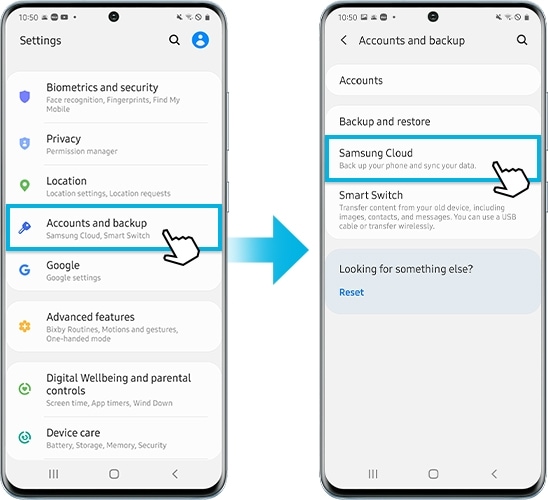 Step 3. Tap More options (three vertical dots) > Settings.
Step 4. Tap Sync and auto backup settings > Auto back up.
Step 5. Select what to back up automatically to Samsung Cloud. 
How to manage Samsung Cloud
You can manage your data by backing up this phone, restoring data, or deleting backup in Samsung Cloud.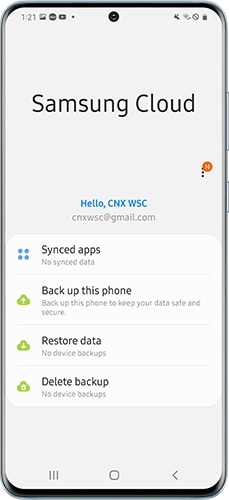 Synced apps: You can manage synced data of pairing devices, items, contacts, and reminder. 
Back up this phone: You can check a list of available back up data that can be kept safe and secure. 
Restore data: You can choose the device and data you want to restore. 
Delete backup: You can delete your backup data. 
Please note that there are a list of content type or status that cannot be backed up or restored, for example, attached files in chats.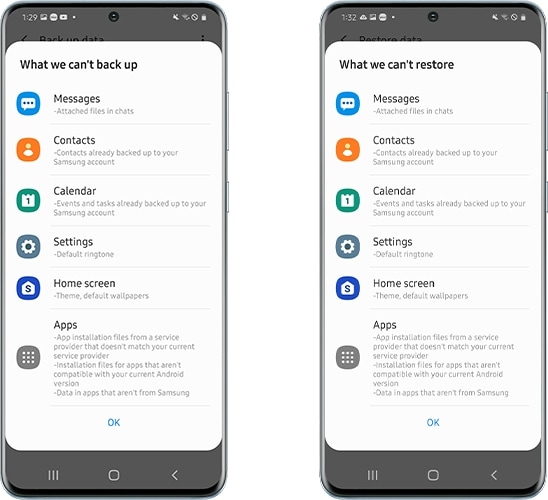 How to backup Gallery using OneDrive
Galaxy series Android 10 or higher supports OneDrive integration, allowing users to synchronize photos and videos directly with OneDrive from the Gallery app. If you meet the device requirements, you can go to Galaxy Settings and connect your OneDrive account to use it as a backup solution. Also, all existing photos and videos of Samsung Cloud can be transferred to OneDrive.
Step 1. Go to Gallery > tap on More options (three vertical dots).
Step 2. Go to Settings > tap Cloud Sync.
Step 3. Connect your OneDrive account and follow on-screen instructions. 

Note: Device screenshots and menu may vary depending on the device model and software version.
If you are experiencing unusual behaviour on Samsung mobiles, tablets or wearables, you can send us a question in the Samsung Members app.  
This allows us to take a closer look at what is happening. The data is anonymised and only held for the duration of the investigation. Find out more about sending an error report through the 'How to use the Samsung Members app'.
Please answer all questions.