What is Swype?
Last Update Date :
Jan 17. 2018
* Please note, this section is designed to give you basic product troubleshooting information, also refer to your user manual for more information.
Your device comes preloaded with the Samsung keyboard and Swype® keyboard.
Swype is a new method of text input that allows user to drag their finger from letter to letter to create a word. To view the tutorial for Swype method, follow the steps below (note: for Android OS 4.0 ICS):
Step 1: Tap Applications from Home screen.
Step 2: Tap Settings.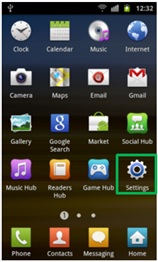 Step 3: Tap Language and keyboard.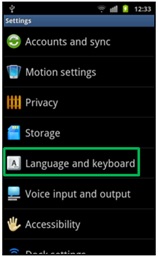 Step 4: Tap Swype from Language and keyboard page.
Step 5: Tap Tutorial.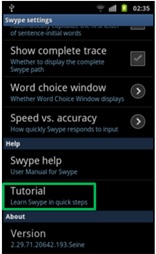 Step 6: Tap the right arrow symbol to proceed with Swype method tutorial.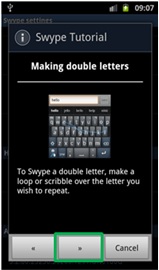 To switch between normal text entry and swype, simply follow these steps:
Step 1: Tap and hold in any text input box then tap Input method.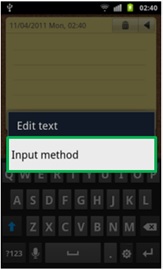 Step 2: Select the desired input method from the pop-up box.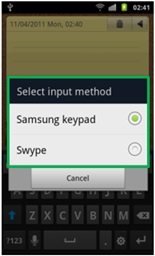 Other keyboard settings (for selected model versions)
Change the keyboard settings on your device; from the Home screen, tap Menu

> Settings

> Language and input. Tap Default to adjust which keyboard is used as your default option.
Tap

next to Swype. You can also access Swype settings when you tap and hold

on the Swype keyboard when you are entering text. You can customize the following keyboard settings:
■ How to Swype: View introduction guides on how to Swype.
■ Gestures: Keyboard shortcuts you can use to quickly accomplish certain tasks.
■ Preferences:
● Vibrate on keypress: Vibrates when a key is touched.
● Sound on keypress: Plays a sound when a key is touched.
● Show helpful tips: Displays helpful hints on how to use Swype.
● Auto-spacing: Automatically inserts a space between words.
● Auto-capitalisation: Automatically capitalises the first letter of a new sentence.
● Show complete trace: Displays the complete Swype path of each word.
● Pop-up on keypress: Displays the character above the key when you are typing.
● Next word prediction: Predicts words based on the previously entered text.
● Reset Swype's dictionary: Deletes all the words you have added to the Personal Dictionary.
● Version: Displays the current version for Swype.
■ Language Options: Lets you change the current language selection and download additional languages.
■ Swype Connect: Lets you make predictive results better with the data collected from external accounts. Adjust the following settings:
● Register now: Register your email address to allow Swype to back up your Personal Dictionary and synchronise it across multiple devices.
● Backup & Sync: Mark this option to automatically back up and sync your Personal Dictionary.
● Contribute usage data: Collect data from the device to improve predictions.
● Cellular data: Allow Swype updates over your cellular data connection.
■ Personalization: Shows you the list of custom words, usernames, and contacts added. Delete selected words from this menu option.
● Edit Dictionary: Manage custom words, usernames, and contacts added to your Personal Dictionary.
● Facebook®: Sign in to your Facebook account to add contact names to your Personal Dictionary.
● Twitter®: Sign in to your Twitter account to add usernames and new words from your Twitter feed to your Personal Dictionary.
● Gmail™: Sign in to your Gmail account to add names of people to your Personal Dictionary.
■ Updates: Check for any Swype updates.
Switching Text Entry Modes (may be applicable to selected phone models only)
When entering text, open the Notification Panel by swiping your finger from the top of the screen to the bottom, and tap Choose input method.
** "To aid us in creating better support content for you, kindly complete the survey below if your query was resolved. Your rating and comments should only be based on the above content.

For all other queries or further technical assistance, please call Samsung Customer Care on 0800 726 786 or Live Chat with our Technical Team online, services are open 24 hours, 7 days."
Need more help? Contact Us.
Online
Monday to Sunday
24 hours / 7 days a week

Email
We'll respond within 24 hours of your request.

Call
0800 726 786For all products
0800 SAMSUNG
24 hours / 7 days a week

0800 6 726 786For Smart Mobile Devices
0800 M SAMSUNG
24 hours / 7 days a week

* For any printer related enquiries please visit the HP website .
Contact Us