Slow-Mo of the Day
Take the #SamsungSOTD Challenge with your Galaxy S9 | S9+
Valid from Apr 25. 2018 to May 31. 2018 Expired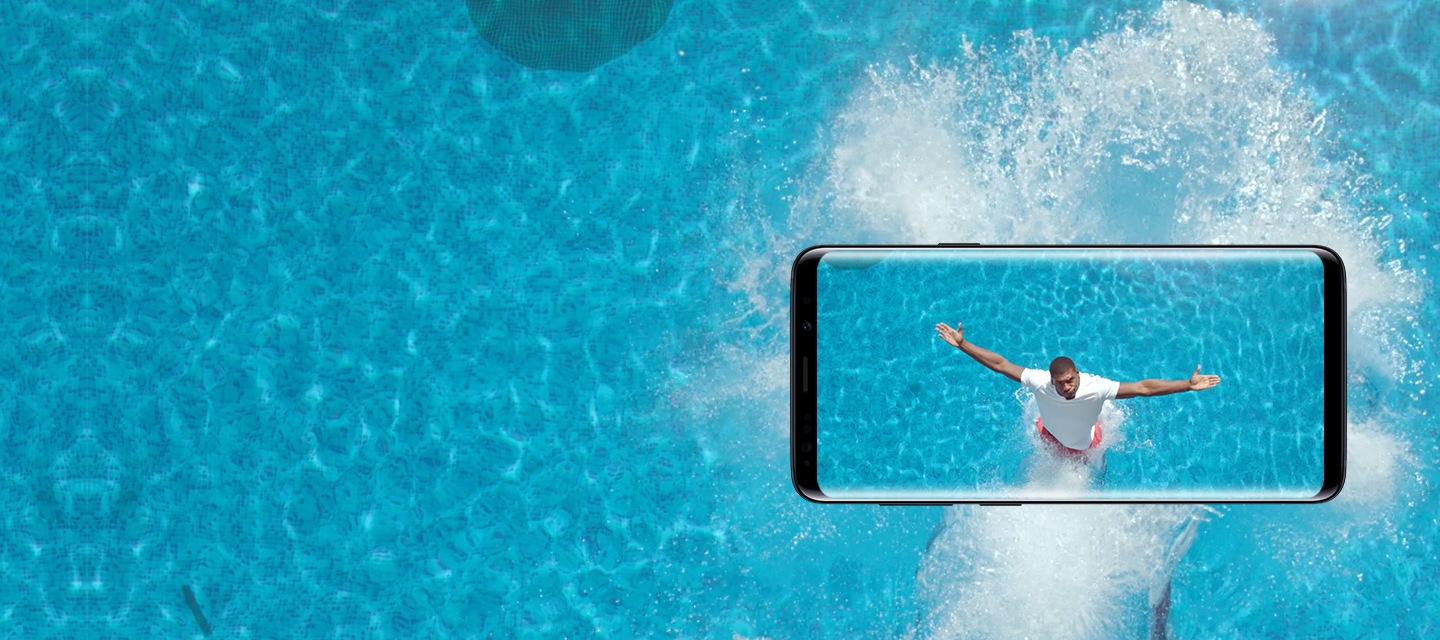 Mechanics:
1.
The promo runs from April 25 – May 31, 2018.
2.
Video entries must fall under any of the 4 themes.

| | |
| --- | --- |
| - | Theme 1: Faces Reimagined (Reimagine human expressions in Super Slow-Mo) |
| - | Theme 2: Food Reimagined (Reimagine delicious food encounters in Super Slow-Mo) |
| - | Theme 3: Action Reimagined (Reimagine action shots like no other in Super Slow-Mo) |
| - | Theme 4: Travel Reimagined (Reimagine travel videos in Super Slow-Mo) |

3.
Promo is open for all participants with age 18 years old and above, currently residing in or is a citizen of the Philippines. Employees of Samsung Electronics Philippines Corporation and its advertising agency partners are not eligible to join the contest as well as their relatives up to 2nd degree of consanguinity or affinity.
4.
Participants must take a video using the Super Slow-Mo function of their Samsung Galaxy S9/9+ phones, according to the specific theme they wish to join.

| | |
| --- | --- |
| a. | Videos must be able to reflect Samsung S9/9+ camera's Super Slow-Mo function. Choose from Loop, Reverse or Swing functions. |
| b. | Videos must be in full color |
| c. | Orientation: Preferably landscape layout. |
| d. | Video Length: 10-15 seconds |
| e. | Size of the video: max of 50MB, HD in mp4 format |
| f. | Video file should be raw, not edited & directly uploaded from the Samsung S9/9+ phones |
| g. | Should music be used, please use preset music only. Any music used for the submitted work must not violate the copyrights of any third party. |
| h. | Do not feature any other branded logos or others that may be subject to intellectual property |

5.
Participants can share their Slow-Mo videos on INSTAGRAM/FACEBOOK. Video captions should highlight the theme featured, tag

@Samsungph

and include the official hashtag

#SamsungSOTD #GalaxyS9PH

*Only posts with the official hashtags will be considered as official and qualified entries*
6.
After sharing the video on Facebook or Instagram, participants must go to http://www.samsung.com/ph/signups/s9sotdchallenge/ and register to submit their official entry. Each participant is required to fill up the following details:

-
First Name
-
Last Name
-
Birthday
-
Email Address
-
Retype Email Address
-
Home Address
-
Contact Number
-
Instagram/Facebook user name/ID
-
Instagram/Facebook share URL
-
Pick a theme
• Faces Reimagined
• Food Reimagined
• Action Reimagined
• Travel Reimagined
*Participants are required to UPLOAD the raw file directly from their Samsung S9 or S9+ for verification to https://www.dropbox.com/.

Upload a file in dropbox.com with your Samsung mobile

1.
Sign up or sign in at www.dropbox.com
2.
Tap the More actions menu

(…)

icon in the top right corner.
3.
Choose

Upload Here

4.
Select the location you'd like to upload the file from
5.
Select the files you'd like to add, and then tap

Upload

Share a link from dropbox.com

1.
Sign in to dropbox.com
2.
Hover your cursor over the file or folder you'd like to share and click Share when it appears.
3.
If a link hasn't been created, click

Create a link

. If a link was already created, click

Copy link

4.
The link will be copied to your clipboard.

-
Enter the Dropbox file download link here
-
Agree to the promo terms and conditions by checking the box.
-
Click Submit
*All fields are required to be filled in, in order to validate the entry. Failure to do so would result to automatic disqualification.*

7.
By participating in this promotion, all participants and winners give Samsung Electronics Philippines Corporation exclusive permission to use and disclose personal information, photographs and videos in connection with this promotion for marketing purposes and waive any claims to royalty, right or remuneration for such use on TV, Radio, samsung.com/ph website, or official Samsung Philippines social media pages.
8.
Deadline for submission of entries is on May 31, 11:59 pm, GMT +8.
9.
Selection of winners will be judged based on the following criteria:

| | |
| --- | --- |
| - | Technical Aspect: 50% |
| | Usage of Samsung S9/9+ Super Slow Mo function (loop, reverse or swing), clear & good quality video |
| - | Wow! Factor: 20% |
| - | Originality & Creativity: 30% |
| | The participant was able to present the video in an original and imaginative way that corresponds to the specific theme chosen. |
| | TOTAL: 100% |

10.
Judging of the winners will be conducted at Samsung Electronics Philippines Corporation office located at 10F Science Hub Tower 4 building, Campus Drive, McKinley Hill, Fort Bonifacio, Taguig City 1634, Metro Manila on Monday, June 4, 6:00pm GMT+8, with the presence of a DTI representative.
For Inquiries:


Samsung Philippines

02-4222111

[ Standard Landline ]

1-800-10-7267864

[ PLDT Toll Free ]

1-800-8-7267864

[ Globe Toll Free ]
11.
Participants may only win once. In case a name wins more than once, he/she gets the prize of higher value.
12.

One (1)

Grand prize winner for a 9-day all-expense paid trip for 2 to Iceland. Inclusions are as follows:

| | |
| --- | --- |
| - | Roundtrip business class flight tickets for 2 (Manila – Reykjavik) |
| - | Total of eight- nights' accommodation in a 5-star hotel & tour |
| - | 3 meals a day |
| - | Pocket money of Php 50,000 |
| - | Travel insurance |

Travel documents, visas, taxes & other related expenses shall be shouldered by the winner. Prize is NOT convertible to cash but is transferrable.

Ten (10)

Finalist winners will receive 1 Samsung 55" UHD Smart TV each (SRP at Php 52,999)
*20% tax shall be handled by Samsung Electronics Philippines Corporation c/o Leo Burnett

Promo Period
Deadline of Entries
Verification
Judging
Announcement
April 25 to May 31, 2018
May 31, 2018
11:59pm
June 1, 2018
June 4, 2018
June 8, 2018

13.
Winners of the contest will be announced within 10 days after the end of the promo period. Winners will receive a notification via registered mail, electronic mail, and through Samsung Electronics Philippines Corporation's Facebook page.
14.
Winners may claim their prize within sixty (60) days after the receipt of registered mail notification at Leo Burnett office 24/F Tower 2, The Enterprise Center, 6766 Ayala Avenue cor Paseo de Roxas, Makati City
15.
The winners of this promotion authorize Samsung Electronics Philippines Corporation to disclose and publish their names, photos, and other particulars as determined by Samsung Electronics Philippines Corporation, to any person and in any mode or manner, as Samsung Electronics Philippines Corporation deems appropriate, that is not in any way in violation of customer data privacy.
16.
The Grand Prize must be availed within 6 months from date of claim.
17.
Failure to claim prizes within the specified period will mean the forfeiture of the prize in favor of Samsung Electronics Philippines Corporation with the prior approval of DTI.
18.
For the claiming of prizes, winners must submit the following documents:

| | |
| --- | --- |
| - | Any 2 valid IDs (Passport, Driver's License, TIN ID, SSS ID, Company ID, School ID, UMID, NBI Clearance) |
| - | Photocopy of Samsung S9/9+ Proof of Purchase (Official Receipt) or Show their Samsung S9/9+ phones. |
| - | For representatives of provincial winners or disabled individuals: any 2 valid IDs of the authorizer and representative, Official Receipt of Samsung S9/9+, signed authorization letter |

19.
In the event that there are no representatives from Metro Manila, provincial winners may get in touch with Samsung's ad agency Leo Burnett to send the valid documents via email. After validation/verification of winners, Samsung will provide details on how they could claim the prize, including but not limited to sending the said prize via courier, free of charge in 2 weeks.
20.
Samsung Electronics Philippines Corporation will not be responsible to compensate winners in any manner, shape or form, in the event that winners' visas are denied by the relevant embassy. Any disputes will be subject to the decision of Samsung Electronics Philippines Corporation.
21.
By accepting the prize, the winner accepts full and complete responsibility for his/her own safety and welfare at all times, and to the fullest extent permitted by law. The winner agrees that Samsung Electronics Philippines Corporation shall not be liable or responsible for any losses, damages, expenses, costs or claims arising out of or relating to the competition or the use of any prize, whether in contract, tort (including negligence), breach of statutory duty or otherwise.

Note:
By submitting your information and video entry, you hereby confirm that you have read and understood the requirements, rules, terms and conditions as stipulated in this agreement.
Video entries and the persons depicted therein are restricted to works for which you, as the participant hold the copyright of. Participants are required to obtain the prior permission and consent of the persons who are portrayed in their video entries. You also hereby waive all your ownership of the submitted video entries and allow Samsung Electronics Philippines Corporation to claim ownership of the submitted material to be used as content video on Samsung Electronics Philippines Corporation social media accounts, websites and other media for marketing purposes without further compensation to or the additional prior consent of the participants.
Per DTI-FTEB Permit No. 6427, Series of 2018.