How to use the Eco Tub Clean?
Last Update Date :
Jul 05. 2019
It is specially designed to remove dirt and biofilm in the tub without special chemical detergent. This innovative function keeps  drum extremely clean by soaking and spinning only with the water.
If there is a washing tub clean course (or Eco Tub clean, Clean Tub, ECO Drum Clean course), refer to the below to clean the washing tub.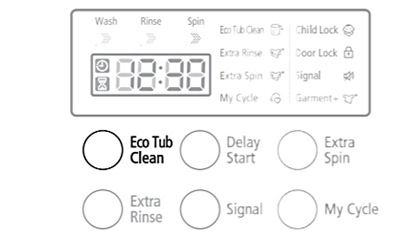 1
Press the power button.
2
Select a washing tub clean course on your display panel
3
Press the start/pause button.

A soaking function is in an automatic mode. The height of water is set up to be the highest. Water supply and water tempertature (cold water and hot water) can be selected.
Using Eco Tub Clean, you can clean the drum without using a cleansing agent.
• Never use Eco Tub Clean when laundry is in the washing machine. This may cause damage to the laundry or a problem with the washing machine.
• Regular use (after every 21 washes) is recommended. 

The Eco Tub Clean Auto Indicator Function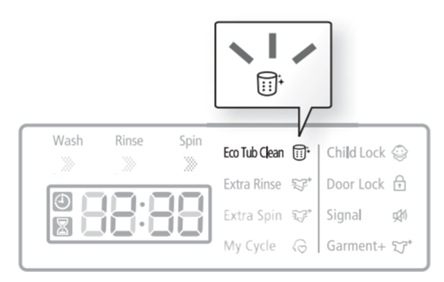 • If the "Eco Tub Clean" button is lit after a wash, it indicates that tub (drum) cleaning is required. In this case, remove the laundry from the washing machine, turn the power on, and clean the drum by running Eco Tub Clean.
• If you do not run Eco Tub Clean, the "Eco Tub Clean" indicator turns off. However, the "Eco Tub Clean" indicator will light again after two washes. Not running Eco Tub Clean at this point will not cause a problem with the washing machine.
• Although the Eco Tub Clean Auto Indicator appears once a month or so, the frequency may differ depending on the number of times the washing machine is use
Need help? Contact Us for Support.
Phone Support
Before calling us , there are some information we need to obtain from you. Please get ready with model code, serial number and date of purchase.
Note: Call conversation is recorded for quality monitoring and/or training purposes for our continuous quality improvement.
For Mobile Devices
#GALAXY [dial #425299]
[Free access for all Networks]
(02) 8-422-2177 [Standard Landline]
Available 24/7
*For Toll Free numbers , just directly dial 1-800 followed by the network number.
** Standard Landline numbers have been updated to comply with the NTC ruling effective October 6, 2019
Face to Face Support
* For any printer related enquiries please visit HP website .
Contact Us