How to clean and maintain your Samsung Air Purifier?
Last Update date :
Sep 22. 2020
Enjoy a home full of fresh, clean air when you use your Samung Air Purifier. This device will sanitize the air in your home by eliminating pollutants, contaminants, and other debris. It's especially useful if you are sensitive to dust or certain odors. 
For the multi-layered purification system to do what it is designed for, the Air Purifier will need to be cleaned and maintained at certain periods. If the Air Purifier is used 24 hours a day, you will generally need to replace the 2-in-1 filter every 6-12 months and clean the pre-filter every 2 weeks. 
Clean the pre-filter
The pre-filter is located behind the rear panel and will need to be cleaned every two weeks, especially if the air purifier is used daily.
1
Remove the pre-filter from the inside of the device. Carefully vacuum the filter, and then rinse it in lukewarm water.
2
Keep the pre-filter in a shaded area away from direct sunlight so it can dry. Do not reinsert the pre-filter until it has dried completely.
Clean the exterior
Although the pre-filter will trap most of the pollutants but also the exterior of the Air Purifier may collect dust or become dirty. The outside panels and sensors should be cleaned as well.
1
Remove the front panel.
Use your thumbs to press on the top of the product and pull the front panel forward.
2
Clean and dry the front panel.
Clean any dirt or foreign substance on the front panel with water or a soft cloth.
After cleaning with water, thoroughly dry the front panel before reassembling it to the product.
3
Reassemble the front panel.
If the panels are layered with dust, you can rinse them with water. Make sure the panels are dry before reattaching and using the device.
Insert the hook on the panel into the groove at the bottom of the product and push the top of the panel until it clicks in.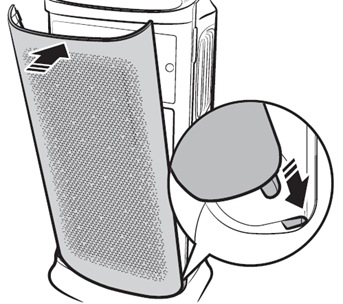 4
Clean the sensors.
If there is dust or foreign substance on a sensor, use a vacuum cleaner to clean the sensor and its surrounding.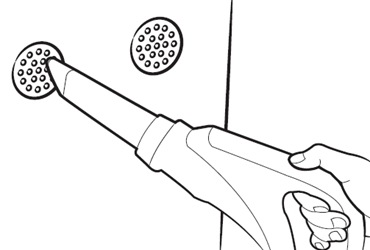 Clearing the filter replacement reminder.
This feature notifies you when it is time to replace the filter.
If you hear a beep and the filter replacement indicator

 lights up while the product is in use, replace the filter and press the Lighting
 button for 3 seconds or more to reset. The replacement reminder turns off after the Filter Change  icon blinks twice with the notification sound.
If the filter has been replaced before activation for other reasons, reset the status by pressing the Lighting  button for longer than 3 seconds.
After resetting the filter, press the Lighting   button to reset this feature as well.