How to Clean your Refrigerator?
Last Update Date :
Dec 29. 2017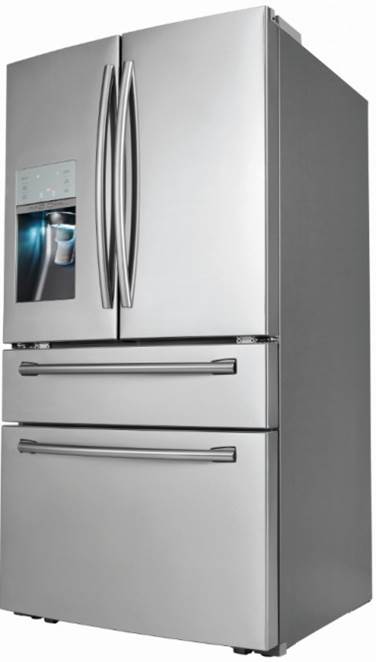 Caring for your Samsung Refrigerator prolongs the life of your appliance and helps keep the refrigerator free of odor and germs. It needs to be cleaned on a regular basis to maintain optimal performance.
■ Cleaning the Interior
Clean the inside walls and accessories with a mild detergent and then wipe dry with a soft cloth.
You can remove the drawers and shelves for a more thorough cleaning. Just make sure to dry drawers and shelves before putting them back into place.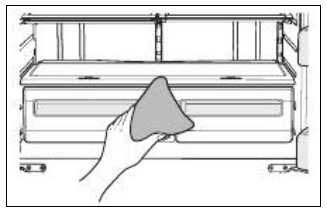 ■ Cleaning the Exterior

Wipe the control panel and digital display with a damp, clean, soft cloth. Do not spray water directly on the surface of the refrigerator.

The doors, handles and cabinet surfaces should be cleaned with a mild detergent and then wiped dry with a soft cloth. To keep your appliance looking its best, polish the exterior once or twice a year.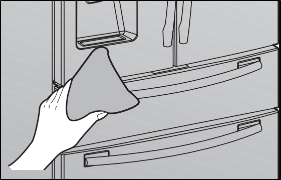 Caution:
● Do not spray water directly or not use a wet or damp cloth.
● Do not use benzene, thinner, or Clorox for cleaning. They may damage the surface of the appliance and may cause a fire
● Printed letters on the display may be erased if the stainless cleaner is applied directly to the area where the letters are printed. 

■ Cleaning the Ice / Water Dispenser
Push down one end of the tray dispenser and remove it. Wipe the Ice / Water Dispenser with a clean and soft cloth. 

Caution:
When using the crushed ice selection from the dispenser some residual ice chips may start to build up in the ice chute. It is recommended to regularly clean the ice chute to prevent random dripping and any mould from forming. Please clean it with either water or a clean, damp cloth.
■ Cleaning the rubber door seals
If the rubber door seals are dirty, the doors may not close properly, and the refrigerator will not operate efficiently. Keep the door seals free of dust or stain by cleaning the doors with a mild detergent and damp cloth. Wipe dry with a clean, soft cloth.
Warning:  Do not clean the refrigerator with benzene, thinner, or car detergent due to risk of fire.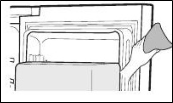 ■ Cleaning the rear side of the refrigerator
This is to keep cords and exposed parts free of dust and dirt accumulation.
Vacuum the rear side of the appliance once or twice a year.
Warning: Do not remove the back cover labeled (1) on the diagram below . You could suffer an electric shock.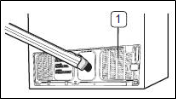 How to Clean the Stainless Steel Refrigerator?
Always read the cleaner manufacturer's instructions and cautions carefully, and test the product in an inconspicuous area before use. Even if a product is labeled, "for use on stainless steel," verify that it is low in chlorides and does not contain any bleach.
Warning:
· Do not spray water or cleaner directly on the surface; instead apply a small amount of cleaner on the rag and then clean the surface.

· Never use any type of window cleaner, soap, scouring powder, or any cleanser with solvents such as alcohol, benzene, ammonia, or paint thinner. Never use steel wool or bleach. If you do, you can damage the finish and rust will form.
· If the unit is on a tile floor, do not use grout cleaners that contain muriatic acid. The fumes alone can damage the stainless finish.
Cleaning the Stainless Surface

1
Make a paste of baking soda and warm water.
2
Apply it to the stainless surface with a soft cloth.
· Start by rubbing gently with the grain of the finish to spread the paste
· Add more pressure as you distribute it over the area to be cleaned.
3
Continuing along the grain, wipe away all remnants of the cleaning agent with a clean wet cloth, and then dry the surface thoroughly.
Note: If the baking soda/warm water paste does not do the job, you can make a new paste, substituting a product like Bar Keepers Friend™ for the baking soda.
Need help? Contact Us for Support.
Online
Live Chat
24 hours a day/7 days a week
(Including Public Holidays)
Email
We'll respond within 24 hours of your request.
Phone Support
Before calling us, there are some information we need to obtain from you. Please get ready with model code, serial number and date of purchase.
Note : Call conversation is recorder for quality, monitoring and/or training purposes for our continuous quality improvement.
For Mobile Devices (24/7)
#GALAXY (just dial #425299)
[Free access for all Networks ]
(02) 8-422-2177 [Standard Landline]
For Television, Audio & Digital Appliances (8:00 AM to 8:00 PM)
1-800-10-726-7864 [PLDT Toll Free]
1-800-8-726-7864 [Globe Toll Free]
(02) 8-422-2111 [Standard Landline]

* For Toll Free numbers, just directly dial 1-800 followed by the network number.
**Standard Landline numbers have been updated to comply with the NTC ruling effective October 6, 2019
Face to Face Support
* For any printer related enquiries please visit HP website .
Contact Us