How to connect SmartThings to your Samsung Air Purifier
Last Update date :
Mar 16. 2023
Monitor and control the air quality in your home from anywhere using the SmartThings App. Enabled for voice assistants, or with a touch you can turn it on/off, check the air quality and control other functions..  Set the fan speed, check the filter status, or monitor the air's cleanliness directly from your phone or tablet. Follow the guide below on connecting SmartThings to your air filter.
Use the different SmartThings controls
Even if you aren't home, you can still control your air purifier's basic functions. Just make sure the purifier is connected to SmartThings first.
Once it is, here's everything you can do from the app: 
Monitor the air quality: View the air's Particulate Matter level for PM10, PM2.5, or PM1.0 levels and gas cleanliness.
Power supply: Turn your air purifier on or off remotely.
Control the fan speed: Select the fan speed you want for the air purifier.
Timed on/off: Set a specific time for the air purifier to turn on or off.
Settings: Check the filter and reset the filter replacement reminder.
Connecting the SmartThings app to your product
Please Note:
Wi-Fi connection is required. Internet connection required, data charges may apply. 
A Samsung account is required to use the SmartThings app. To create your Samsung account and log in to your account, follow the instructions displayed on the SmartThings app.

Voice control supported in 8 languages (UK English, US English, Korean, Chinese, German, French, Spanish, Italian).

Step 1. Open the SmartThings app on your device.
Step 2. Tap on the '+' icon.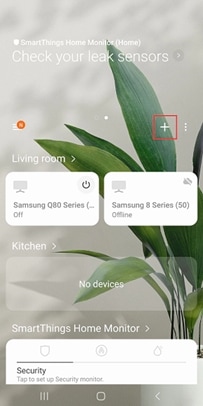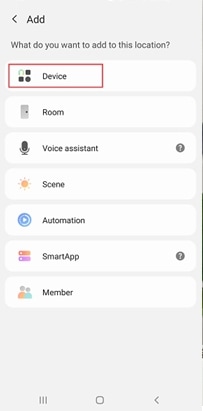 Step 4. Tap on 'Air Purifier'.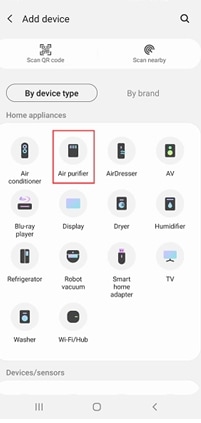 Step 5. Tap on 'Samsung'.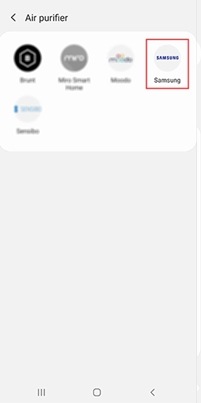 Step 6. Tap on 'Air Purifier'.
Please answer all questions.