Refrigerator display is not responding properly
Last Update date :
Jul 26. 2022
If the display on your refrigerator is often turned off, it is mostly energy-saving, so there is no problem. However, if the panel cannot be operated, it is recommended to try the solution according to the following cases.
Cases that the display panel cannot be operated
When the display is locked
Step 1. Press the [Lock/Unlock] button for more than 3 seconds to change to the unlocked state. In case of Child Lock, press the Child Lock button for 5 seconds.
Step 2. Check the operation by pressing the temperature control button.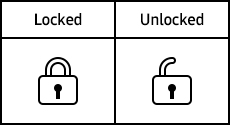 When the refrigerator is in Sabbath Mode
In Sabbath mode, the buttons, display, and internal lights do not function. However, the fridge and freezer continue to cool.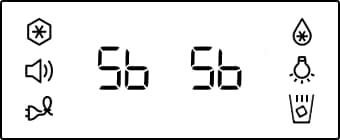 Step 1. If your model has an Automatic Control Lock, you will need to unlock it first.

Step 2. Touch and hold the correct button combination from the following list (or consult your user manual) for 5 seconds until the lights go out or come back on.
- Door Alarm and Water/Ice
- Freezer and Door Alarm
- Power Freeze and Power Cool  
When a specific button is intermittently not operated
If only a specific button is not available, it may be caused by a gap between the contacts of the button.
Press and hold [Lock/Unlock] to change to unlocked and then press the button with force.

When the display sometimes looks dim
The brightness and color pattern of the refrigerator display may differ depending on the model. Especially if the overall color of the door is white, the display may feel blurry. It is not a malfunction unless the character is broken or is not visible on the display.

Due to drastic power fluctuations (Only for the French Door model)
The display screen on your refrigerator may not function correctly due to drastic power fluctuations.
When this happens, the fridge screen will display 88 88.
- If the fridge display is showing 88 88 (all eights) and is still cooling properly, then unplug the refrigerator for 60 seconds and then plug it back in.
- If the display does not return to normal after 2 minutes, then contact an authorized Samsung service center.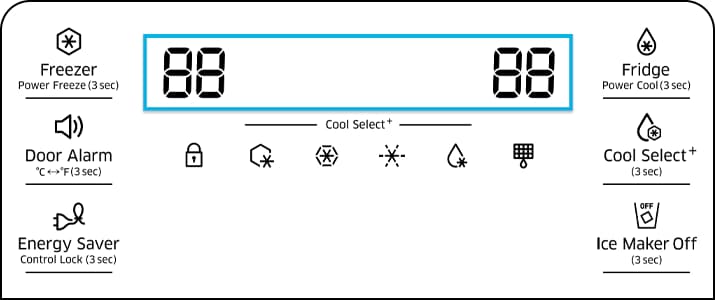 Display reset (Only for the Family Hub model)
If you encounter an abnormal symptom on the display, try resetting the display. This may solve the problem.
Step 1. Open the right-side fridge door and locate the switch cover on the top right corner of the door.
Step 2. Push up the cover to reveal the power switch.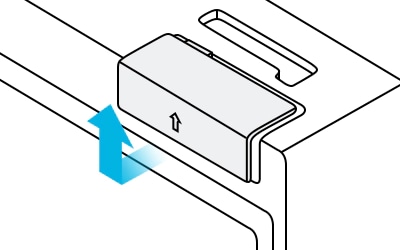 Step 3. Turn the switch off and turn it on again.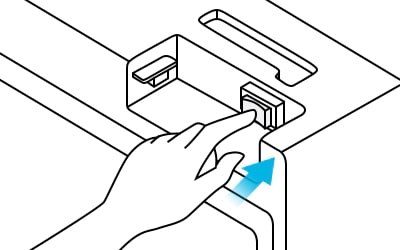 Step 4. Reinsert the switch cover to the end until you hear a clicking sound.

Note: If the problem is not resolved after checking all of the above, please contact an authorized Samsung service center.

Please answer all questions.