Exit Camera. Battery temperature too high' pops up
Last Update date :
Jul 25. 2022
When you use features or apps that require more power or use them for extended periods, your device may temporarily heat up due to increased battery consumption. Also, your device may heat up due to the exterior environment conditions (i.e. using for extended periods in very hot areas, storing device in very cold or very hot temperatures, exposure of the device to direct sunlight. etc)
If the temperature exceeds the normal operating range while using the camera, the Camera app may stop or close with the message "Exit Camera. Battery temperature too high." 
This is a normal operating condition to prevent damage to the device. Wait for the device to cool down and then begin taking a photo again.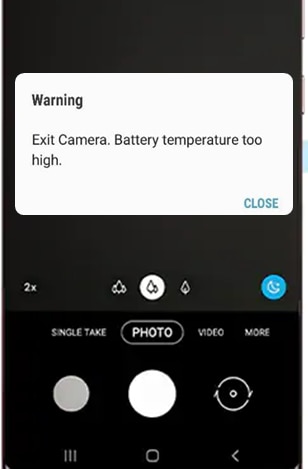 When the device heats up, the features and performance may be limited or the device may turn off to cool down with overheating message.
Let your phone cool itself down.

The phone will automatically change these settings to prevent overheating:
Screen brightness may be reduced.
Running apps may be closed.
Overall performance may be limited.
Wi-Fi and cellular networks may be disconnected.
Charging may stop.

You can check out our guide for tips on how to protect your Galaxy device from overheating.
Please answer all questions.