Galaxy S6: How to delete all of personal information
Last Update date :
Jul 25. 2022
Your device lets you perform a factory reset to delete all of your personal information from the device. This feature ensures your data are removed before sending the device in for replacement or repair, properly disposing of the device, or giving the device to a friend or family member to use.
Note: Your personal information cannot be recovered after using this feature. Please save any information you need prior to using this feature.
1
From the Home screen, tap Apps then select
2
Scroll to and tap Backup and reset under the Personal tab.
3
Tap Factory data reset.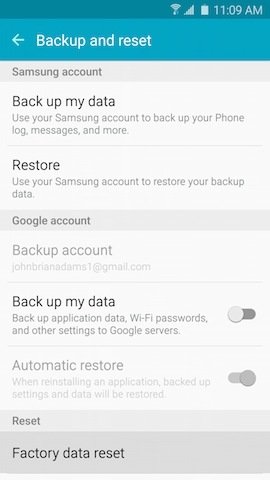 Note: Screens and settings available may vary by wireless service provider and software
4
Review the information provided and tap RESET DEVICE
5
If you have a security lock set on the device, you will be prompted to enter the lock information before proceeding.
6
Tap DELETE ALL to delete all information and downloaded applications.
The process may take a few minutes while your device removes your personal data and restores the Android™ platform to its original state. You can reinstall any downloaded or purchased applications from Google Play™ Store.
Perform a Remote Factory Reset
1
From the Home screen, tap Apps then select the Google Folder
3
Scroll down and tap Security.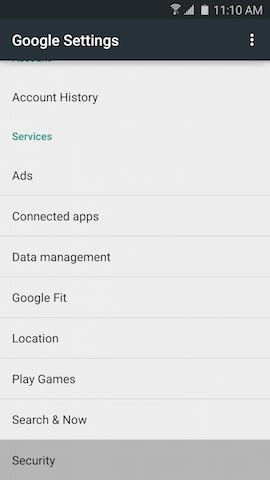 4
Tap the slider next to Allow remote lock and erase to turn on the feature.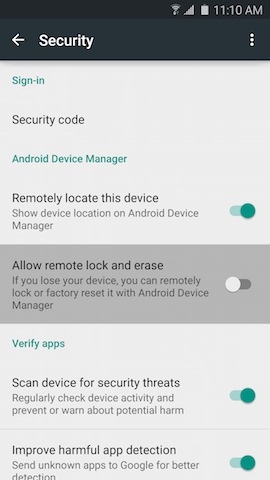 5
Tap ACTIVATE.
6
From your computer, sign in to the website using the Google Account associated with the device you want to locate.
7
Click Accept to let the application send the location data to Google.
8
An interactive dialog box displays in the top-left corner.
9
Click Erase to confirm deletion
Use Find My Mobile to Wipe Your Device
You can also use Samsung's Find My Mobile service to remotely wipe your device. In order to use this feature, you must turn on Remote controls for your device.
Turn On Remote Controls
1
From the Home screen, tap >Apps > Settings > Lock and Security
2
Tap Find My Mobile.
3
If necessary, tap Add account and sign in to your Samsung account.
4
If necessary, touch the slider to turn Remote controls.
We would love to know your feedback to help us improve. Please click the submit button to tell us what you think.
Please answer all questions.