How to backup a Samsung phone
Last Update date :
Jan 11. 2023
With so many files on your phone or tablet, it is important to back up your data.  It is recommended to keep regular backups of your Samsung device in case your phone or tablet is ever lost, stolen, or replaced.
Making backups and restoring your data from a backup is made easy with a Samsung account, Google account, or the Smart Switch app. 
Before you try the recommendations below, be sure to check if your device's software and related apps are updated to the latest version. Please check the following steps on how to update your mobile device's software.  
Step 1. Go to Settings > Software update.
Step 2. Tap on Download and install.
Step 3. Follow the on-screen instructions.
Select one of the options below to learn how to back up your device via Smart Switch, external USB/SD Cards, via Samsung Account or Google Account.
Backup data using Smart Switch
Smart Switch makes it easy to transfer contacts, photos, messages, and more from your old phone to your new Samsung Galaxy device.
The process of transferring your data with Smart Switch will change depending on the method you wish to use and the device you are moving your data from. For more information about Smart Switch, refer to How to transfer and backup data using Smart Switch on a Galaxy phone
Make sure the Smart Switch app is installed on both phones. When you're ready, place the two phones close to each other. The below step is a wireless transfer of data from your previous phone to your new phone.
Step 1. Open Settings and select Accounts and backup.
Step 2. Select Bring data from old device.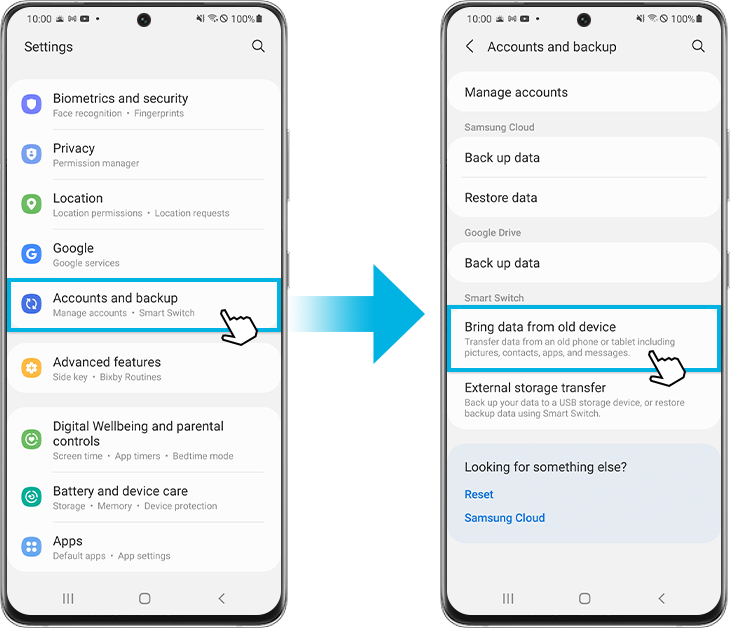 Step 3. Tap Receive data on your new phone and tap Send data on your old phone.
Step 4. Check the OS of your old phone and choose the appropriate source.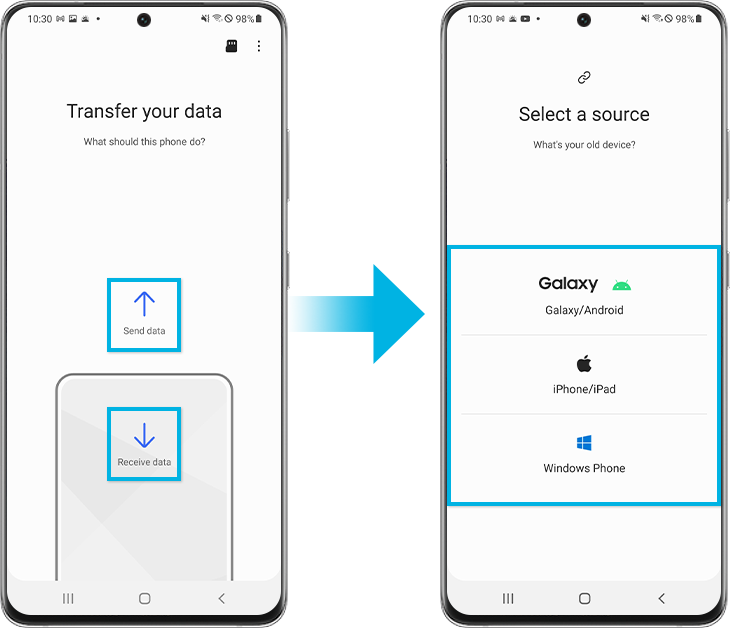 Step 5. Select Wireless.
Step 6. Open Smart Switch on your old device to connect, and then tap Allow to allow the connection on your old phone.
Step 7. Select data to transfer, and then tap Transfer at the bottom right.
Step 8. Once the transfer is complete, tap Go to the Home screen. 
Note: Latest Galaxy devices already have Smart Switch pre-installed however if you have uninstalled the app or if you are unable to locate the application within your apps tray, you can easily download it from the Google PlayStore.
Back up using Samsung Cloud
Sync the data saved in your devices, such as images and videos, with Samsung Cloud and view the data you have saved on Samsung Cloud. You can also back up your device's data to Samsung Cloud and restore it later. You must sign in to your Samsung account to use Samsung Cloud. 
Contents that can be backed up
Calendar, Contacts, Phone, Clock: Alarms, Home screen, Apps, Settings, Messages, Music, Voice Recorder, Documents
How to manually back up data

Step 1. Go to Settings >  Accounts and backup.
Step 2. Tap Samsung Cloud > Back up data.
Step 3. Tick items you want to back up and tap Back up.
Step 4. Tap Done.
How to back up data automatically
Auto back up automatically backs up your data once every 24 hours. However, for this, your phone must be charged, connected to Wi-Fi, and the screen must be off for at least an hour.
Step 1. Go to Settings > Accounts and backup.
Step 2. Tap Samsung Cloud.
Step 3. Tap More options (three vertical dots) > Settings.
Step 4. Tap Sync and auto backup settings > Auto back up.
Step 5. Select what to back up automatically to Samsung Cloud.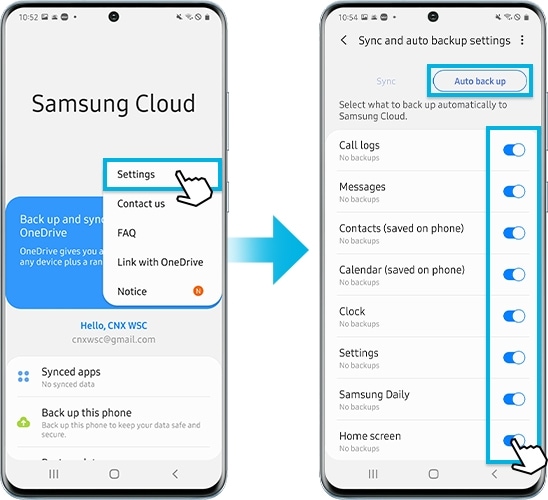 To view the backup data for other devices in your Samsung Cloud, on the Settings screen, tap Accounts and backup → Restore data → Arrow down icon and then select a device you want.
How to Restore data using Samsung Cloud
Step 1. On the Settings screen, tap Accounts and backup

Step 2. Tap the Restore data → Arrow down icon and select a device you want.
Step 3. Tick items you want to restore and tap Restore.
Back up and restore using Google
Step 1. Open Settings, and then tap Accounts and backup.

Step 2. Tap Back up data under Google Drive. If prompted, sign in using your Google account credentials
Step 3. Tap Back up now.
To restore your data, tap the switch next to Automatic restore under Google account.
Note: The Automatic restore option may not be available on all models.
Back up data with a microSD card
If you'd rather use a method that doesn't require the internet, you can try using a microSD card. Simply insert one into your phone or tablet and then move over your desired files to the card with My Files.
Restoring backed-up files is as easy as backing them up and then copying them to the phone or tablet, or even copying them to another device.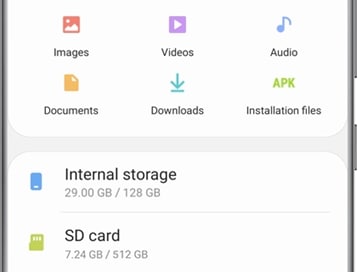 Note:
Some features are available for certain models only due to hardware limitations, please check the settings in your device to see whether the function is available or not.
Device screenshots and menu may vary depending on the device model and software version.
We would love to know your feedback to help us improve. Please click the submit button to tell us what you think.
Please answer all questions.