How do I wear the Gear S3 correctly?
Last Update date :
Sep 21. 2020
Open the buckle and place the strap around your wrist. Fit the strap to your wrist, insert the pin into an adjustment hole, and then secure the buckle to close it. Do not bend the strap excessively. Doing so may damage the Gear.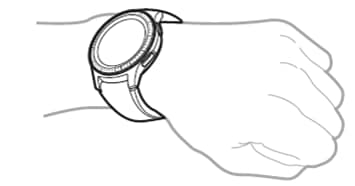 To measure your heart rate more accurately with the Gear, wear the Gear firmly around your lower arm just above the wrist. When measuring your heart rate, wear the Gear snugly on your arm above your wrist. Do not fasten the Gear too tightly. 
• The accuracy of the heart rate sensor may be diminished depending on measurement conditions and surroundings.
• Use the HR feature only for measuring your heart rate.
• Cold ambient temperatures may affect your measurement; during winter or cold weather, keep yourself warm when checking your heart rate.
• Take heart rate measurements when you are seated and relaxed. Do not move your body while taking heart rate measurements. Doing so may cause your heart rate to be recorded inaccurately.
• Because the heart rate sensor uses light to approximate heart rate, its accuracy may vary due to physical factors that affect light absorption and reflection, such as blood circulation/blood pressure, skin condition and location and concentration of blood vessels. 
In addition, if your heart rate is extremely high or low, measurements may be inaccurate. 
We would love to know your feedback to help us improve. Please click the submit button to tell us what you think.
Please answer all questions.