Activate location & change location permissions settings
Last Update date :
Jul 25. 2022
Your Galaxy phone includes a GPS antenna to track real-time location data. You can easily turn on and off location service on your phone. You can also improve location accuracy to get more accurate location services. See how easy it is to enable and set up your location settings below.
Before you try the recommendations below, be sure to check if your device's software and related apps are updated to the latest version. To update your mobile device's software, follow these steps:
Step 1. Go to Settings > Software update.
Step 2. Tap on Download and install.
Step 3. Follow the on-screen instructions.
Activate location services on your phone
To use location-based services and apps like Google maps on your Galaxy phone, you need to enable your device's GPS location settings. Your device may use a combination of Wi-Fi, GPS, and mobile networks to determine your location and even get help if your phone is lost or otherwise. Follow the steps below to enable your location services settings.
Step 1. Launch the Settings app, and then select Location.
Step 2. If the switch at the top is Off, turn it On.
Alternatively, you can swipe down on the screen to bring up the Quick panel, and then tap the Location icon to enable or disable location services.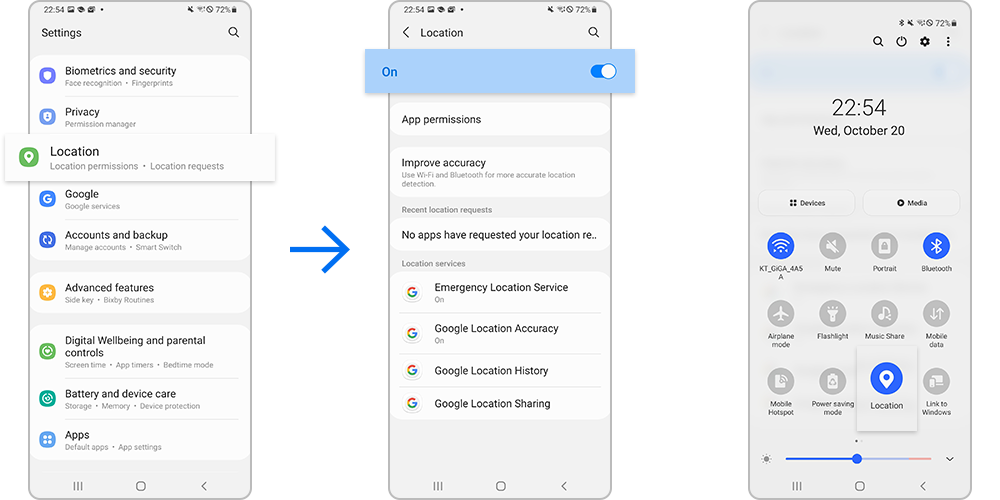 How to change settings for location information permissions
You can see which apps are using your location services and grant or block permissions individually. You can also increase the accuracy of the signal to ensure that your positioning is correct every time.
App permission
View the list of apps that have permission to access the device's location and edit the permission settings.
Step 1. Select App permissions, in the Location settings menu.
Step 2. Check the apps that can access the device's location.
Step 3. For example, if you want to allow the Camera app to use the location, select Allow only while using the app.
Improve accuracy
Set your phone to use the Wi-Fi or Bluetooth feature to increase the accuracy of your location information, even when the features are deactivated. The Improve accuracy feature lets you find your location more accurately, while disabling the feature saves data usage and battery power.
Step 1. Select Improve accuracy, in the Location settings menu.
Step 2. Tap the switches to activate Wi-Fi scanning and Bluetooth scanning.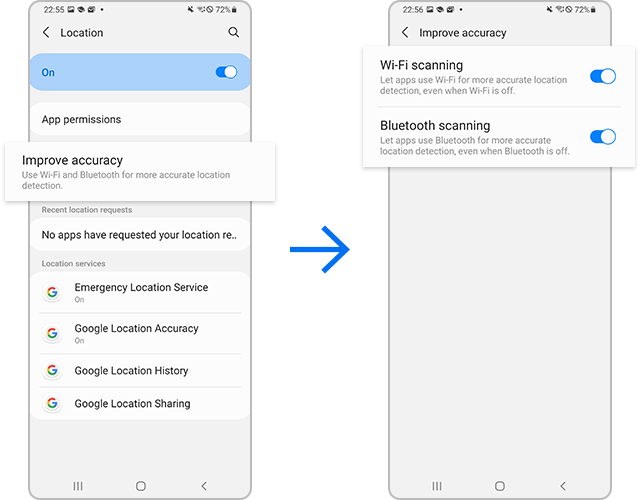 Tips to improve your phone's GPS signal
GPS works best where signals can be received. It requires a direct, open view of the sky in order to communicate with satellites.
The following can result in lost connection of GPS signals:
GPS signal strength may decrease in locations where the signal is obstructed, such as between buildings or in low-lying areas, or indoors, or in poor weather conditions.
The GPS settings are not turned on.
The device's screen has been turned off.
The device is being held in a manner which blocks the antennas. This is especially true for the Galaxy Z Flip if it is folded close.
The phone is set to a Power saving mode. For the best GPS signal, the device should be set to High performance or Optimized.
The app that uses GPS (like Google Maps) is listed as a sleeping app. You'll need to remove it from the list.
Note:
Although the GPS on your phone will work inside a building or a house, it is not recommended to use GPS while indoors.
Note: Device screenshots and menu may vary depending on the device model and software version.
Please answer all questions.