How to scan QR code on your Galaxy device
Last Update date :
Jun 22. 2021
QR Codes also known as Quick Response Codes carry important information that can only be decoded by QR scanners. The Samsung Galaxy series, can read QR codes without installing any additional software. There a few easy ways to decode QR Codes, with Bixby Vision and Samsung Internet or Samsung Internet (Beta) and through the Camera app simply point your camera at the code and instantly be redirected to URLs links, Geo Co-ordinates, contact information or text messages.
Note: The process of reading the QR code will vary depending upon which model you own
via Bixby Vision
1
Launch you Camera app > tap Bixby Vision.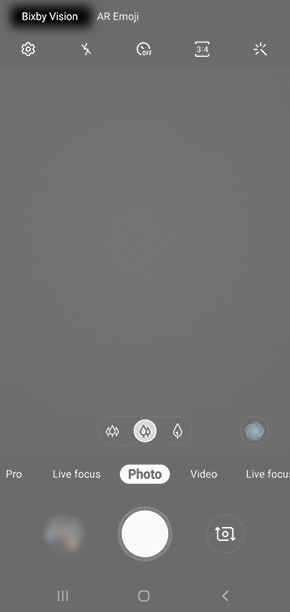 2
If this is your first time launching Bixby Vision, you will need to give the app permission. Tap Allow on all the requests for permission that appear.
3
Allow the Bixby Vision pop-up permissions.
4
Scan the QR Code then tap Go to launch the website.
via Samsung Internet or Samsung Internet (Beta)
The Samsung Internet application is pre-installed on later Galaxy devices however if you have uninstalled this app or you are unable to locate this app within your apps tray, you can easily download it from the Google PlayStore.
Note: Screenshots were captured from a Galaxy A20 with an OS Version 9.0 (Pie), settings and steps may vary depending on your Galaxy device and Android version.
1
Launch Samsung Internet or Samsung Internet (Beta).
2
Tap the three vertical lines at the bottom right of the screen.
3
Tap Settings and then tap Useful features.
4
Turn on QR code reader by sliding the button.
5
Tap back to the homepage and touch the URL link then select the QR Code icon
6
Tap Allow on the pop up permissions.
6
The QR code will be detected once you have positioned the coded within the guidelines.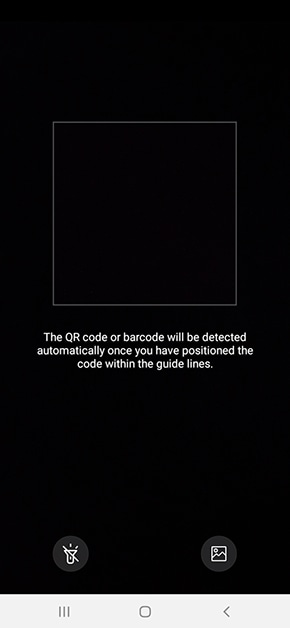 via Camera app
Note: This setting is currently only available to Galaxy devices operating on OS Version 9.0 (Pie).
1
Swipe down your screen to access your Quick Settings and tap on QR Scanner.
2
Tap OK to proceed to the next step.
3
The Camera app will then be launched where you can scan QR Code. Once the QR Code is scanned, you should be able to launch the webpage below.
4
If the QR Code cannot be scanned you may need to enable this setting. Tap on the Camera Settings icon button.
5
Toggle on Scan QR codes.
via Gallery app
1
Once you have captured your QR Code screenshot, head into the Gallery app.
2
Select the QR Code screenshot.
3
Tap on the Bixby Vision button.
4
Ensure you select Lens then allow Bixby Vision to read the QR Code. Once read tap on the popup webpage to be redirected to your default internet browser app.
If you're experiencing unusual behavior on Samsung mobiles, tablets, or wearables, you can send us an error report or ask us a question in the Samsung Members app. This allows us to take a closer look at what is happening. The data is anonymized and only held for the duration of the investigation. Find out more about how to send an error report here: How to use the Samsung Members app