How to connect SmartThings Wi-Fi with a mobile device?
Last Update Date :
Feb 19. 2019
To connect the Wi-Fi hub with a mobile device, you must install the SmartThings app on the mobile device.
You can download the app from Galaxy Apps, Play Store, or App Store.
• Visit www.samsung.com to see compatible devices with the SmartThings app.
• You must register and sign in to your Samsung account to use the SmartThings app.
• Supported features may vary depending on your mobile device and its operating system
1
Connect one end of the Ethernet cable to the hub's WAN port (IN) and the other end to the modem's LAN port.
2
Connect the adapter to the Wi-Fi hub. The Wi-Fi hub will turn on and the indicator light will flash green.
Note: Use only Samsung-approved adapters (12 V/2.1 A or higher).
• You can use the Wi-Fi hub only when you connect the Wi-Fi hub to an adapter.
• If the Wi-Fi hub's temperature exceeds 55 °C, the Wi-Fi hub's internal fan willautomatically activate. If the Wi-Fi hub overheats for a prolonged period, the Wi-Fihub may automatically turn off or reset. When this happens continually, disconnectthe adapter from the Wi-Fi hub and contact a Samsung Service Center.
• To save energy, unplug the adapter when not in use. The adapter does not have apower switch, so you must unplug the adapter from the electric socket when not inuse to avoid wasting power. The adapter should remain close to the electric socketand be easily accessible while using it.
3
Launch the SmartThings app on the mobile device.
The Wi-Fi and Bluetooth features will activate automatically and search for available devices.
4
The Wi-Fi hub will be detected automatically. Tap ADD DEVICE.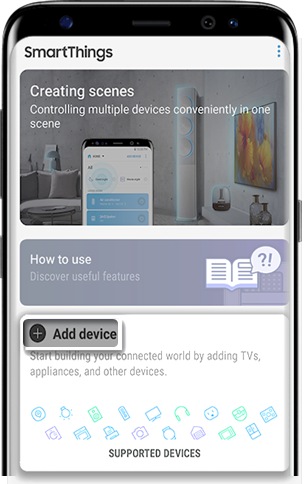 If the Wi-Fi hub is not detected, tap ADD DEVICE MANUALLY → Wi-Fi Hub icon, and tap your Wi-Fi hub's name.
5
Enter a network name and password to assign to the Wi-Fi hub.
To register IoT devices via the Samsung SmartThings Hub feature, tick Set up SmartThings Hub to activate it.
6
Follow the on-screen instructions to complete the connection.
Need help? Contact Us for Support.
Phone Support
Before calling us , there are some information we need to obtain from you. Please get ready with model code, serial number and date of purchase.
Note: Call conversation is recorded for quality monitoring and/or training purposes for our continuous quality improvement.
For Mobile Devices
#GALAXY [dial #425299]
[Free access for all Networks]
(02) 8-422-2177 [Standard Landline]
Available 24/7
*For Toll Free numbers , just directly dial 1-800 followed by the network number.
** Standard Landline numbers have been updated to comply with the NTC ruling effective October 6, 2019
Face to Face Support
* For any printer related enquiries please visit HP website .
Contact Us