How to control media & devices on Galaxy smartphone
Last Update date :
Jul 25. 2022
Want to control the volume of your connected Bluetooth speaker or control your SmartThings devices directly from your Quick panel? Simply set up the Media and Devices Panel on your Galaxy phone or tablet to conveniently manage your connected devices. 
Before you try out below recommendations as to your solutions, be sure to check if your device's software and related apps are updated with latest version. Please check how to update your mobile device's software in following order.  
Step 1. Go to Settings > Software update.
Step 2. Tap on Download and install. 
Step 3. Follow the on-screen instructions. 
Set up and use the Media panel
Once Media panel is set to use, you can view current media that's playing on the phone, such as songs from Spotify or Google play music. Simply follow the steps to set up Media first. 
Step 1. Swipe down from top of the screen to open the Quick panel.
Step 2. Tap Media under the Quick settings icons. 
Step 3. Read on-screen instructions, and tab Done.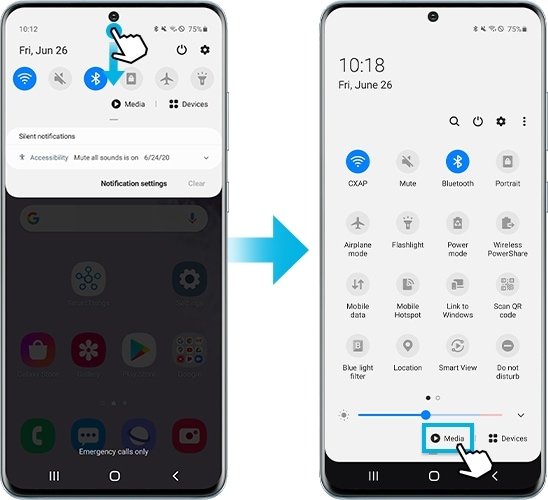 Underneath the displayed song, you will see a list of connected Bluetooth audio devices.
You can:

Change the audio output by tapping your desired device, such as Galaxy Buds.
Have more than one Bluetooth audio devices connected, a circle will appear next to each one. You can play the same media on multiple devices simultaneously. 
Set up and use the Device panel
If having a special place for just audio devices wasn't enough, there's also a place for all of your other connected gadgets. Device panel basically provides a shortcut to all your smart devices that are connected to your SmartThings account or your phone. 
Step 1. To open the Device panel, swipe down from top of the screen to open Quick panel.

Step 2. Tap Devices under the Quick settings icons.
Step 3. Read on-screen instructions, and tap Next.
Step 4. When you are finished, tap Done.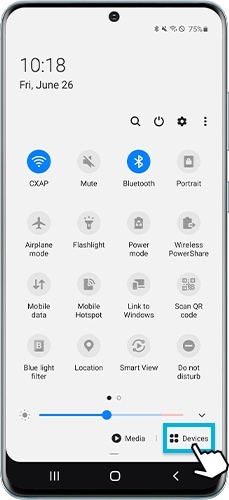 Tap your desired icon to access a device's settings or to run a Scene. 

To add, remove, or adjust the order of the listed devices, tap More options (three vertical dots) in the top right, and then select Choose scenes and devices or Change order. 
Control the TV's Spotify from your phone
You can control Spotify on your TV using your phone with the Media panel. Prior to action, make sure the TV and phone are connected to the same Wi-Fi network. 
Step 1. Swipe down from the top of the screen to open the Quick panel. 
Step 2. Tap the Smart View icon.
Step 3. Select your desired TV and then tap Start now on the phone. 
If necessary, select Allow on the TV to give the phone permission to connect. Your phone's audio will now begin playing on the TV's speakers. 
Note: 
The previous SmartThings panel has been replaced by the Media and Device panels. If you want to control your SmartThings registered devices, you need to update Media and Devices to 1.0.02.17 version or later, and SmartThings app to 1.7.36.23 version or later. 
Device screenshots and menu may vary depending on the device model and software version.
If you are experiencing unusual behavior on Samsung mobiles, tablets or wearables, you can send us a question in the Samsung Members app.  
This allows us to take a closer look at what is happening. The data is anonymized and only held for the duration of the investigation. Find out more about sending an error report through the 'How to use the Samsung Members app'.
 
Please answer all questions.