How to customize the Side Key on Galaxy phone
Last Update date :
Apr 14. 2021
There's no longer a separate Power and Bixby button. They have been combined into one and include Bixby functionality. This new button is called the Side key, and it can be set to perform different tasks, whether you want to turn off your phone, call Bixby, or perform other actions.
Side Key functions
All newer Galaxy phones have a Volume key and a Side key. Depending on what phone model you have, the buttons are located on the left or right side.
Here are the default key functions you can use:
Wake Bixby: Long press the Side key.
Screen on or off: Short press the side key.
Launch Camera: Double press the Side key. If you've already set up Bixby Voice, double pressing may open Bixby Assistant Home instead.
Power on: Long press the Side key while the phone is off.
Screen capture: Short press the Side and Volume down key simultaneously.
Power off menu: Press and hold Side Key + Volume down key.
Note: You can also power off your phone with the Quick settings panel. Swipe down from the top of the screen, tap the Power icon in the top corner of the screen, and then tap Power off. 

Customize the Side Key
From Settings, tap Advanced features and select Side key, and then tap Side key again.
Here you can select your desired settings.
For Double press, you can choose between:

Quick launch camera

Open Bixby
Open app (Tap the Settings icon to select an app.)
For Press and hold, you can choose between:
Wake up Bixby
Power off-menu (You can also use Quick settings or Bixby.)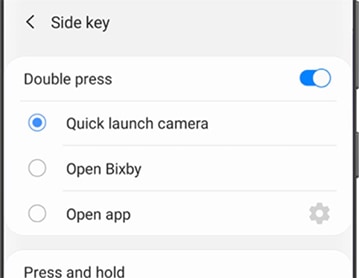 If you're experiencing unusual behavior on Samsung mobiles, tablets, or wearables, you can send us an error report or ask us a question in the Samsung Members app. This allows us to take a closer look at what is happening. The data is anonymized and only held for the duration of the investigation. Find out more about how to send an error report here: How to use the Samsung Members app.
Please answer all questions.