Take videos using Super Slow-mo on Galaxy Note9
Last Update date :
Jul 25. 2022
You can quickly capture all of the moments that you do not want to miss and play them in slow motion. The super slow motion feature will let you record special occasions and fast-moving scenes and enjoy them in a fun, new way. When you play the video, the segments recorded in super slow motion will play in slow motion. 
Before you try the recommendations below, be sure to check if your device's software and related apps are updated to the latest version. Please check the following steps on how to update your mobile device's software.  
Step 1. Go to Settings > Software update.
Step 2. Tap on Download and install.
Step 3. Follow the on-screen instructions.
Note: Available screens and settings may vary by the wireless service provider, software version, and model.
Multi-shot: Record a video and capture multiple moments in super slow motion.

Single-shot: Record a short video by capturing a single moment in super low motion.
To move the motion detection area, tap the area inside the frame and drag it to a new location. To adjust the area size, tap a corner of the frame and drag it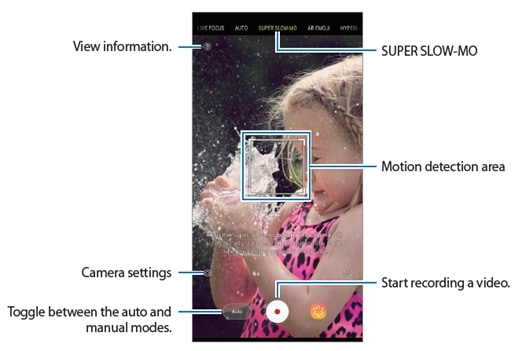 Use this feature in a place that has sufficient light. When you record a video indoors with insufficient or poor lighting, some of the following situations may occur :
The screen may appear dark due to the small amount of light.
The screen may flicker in certain lighting conditions, such as fluorescent light.
Super slow motion recording may start at an unwanted moment if there are conditions such as the following :
When the device shakes.
When another object is moving near the subject in the motion detection area.
When recording under flickering light, such as a fluorescent light.
When recording in dark areas where noise occurs.
Recording super slow motion video
1
On the shooting modes list, tap SUPER SLOW-MO.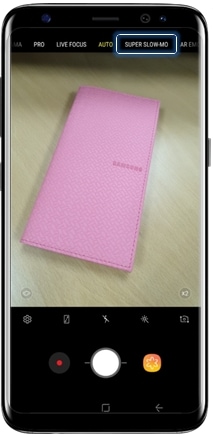 2
On the preview, tap
> Super Slow-mo >Tap Multi-take or Single-take and double-tap the back button.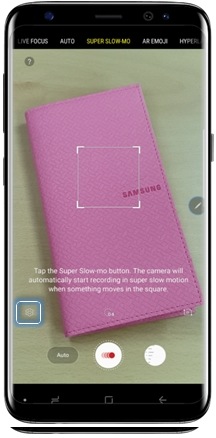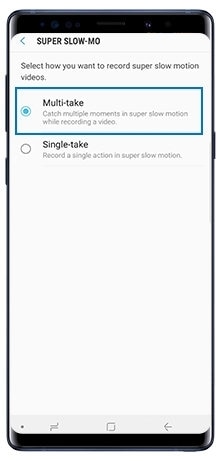 3
Select either Auto or Manual mode.
ㆍ Auto : When motion is detected in the motion detection area, the device will capture the moment in super slow motion.
ㆍ Manual : At the moment you want to capture in super slow motion, tap check icon
4
Tap icon to start recording a video.
You can use super slow motion up to 20 times in a single video.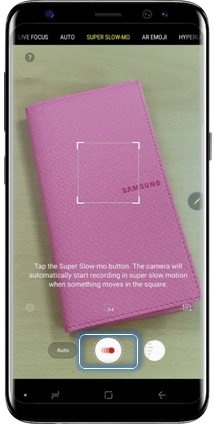 5
Tap icon to stop recording the video.
We would love to know your feedback to help us improve. Please click the submit button to tell us what you think.
Please answer all questions.