Main features of Galaxy Buds
Last Update date :
Jan 31. 2022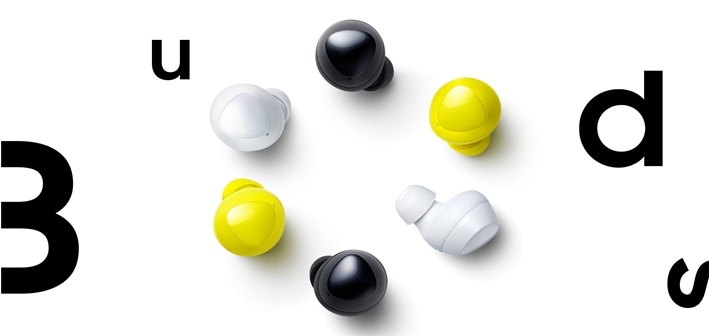 Clear Sound & Wireless PowerShare Capability
The Galaxy Buds were designed to provide a true screen-free experience for busy people on the go. Its premium sound by AKG gives you an immersive listening experience. Its Adaptive Dual Microphone features an inner microphone and an outer microphone that work together to capture your voice more clearly during phone calls. With Ambient sound mode, you can hear your surroundings without the need to take off your earbuds.
It supports the Wireless PowerShare feature for added convenience. With the Galaxy Buds, discover truly clear sound and convenience that goes beyond your expectations.
Premium sound by AKG.
Adaptive Dual Microphone for clearer calls & Bixby commands delivery.
Ambient sound helps you enjoy music without blocking the surrounding sound completely.
Wireless PowerShare feature to make it easy to use.
Always clear voice in any situation
Enjoy clearer phone calls no matter where you are. The Galaxy Buds come equipped with an Adaptive Dual Microphone that combines an inner and outer microphone, it captures your voice clearly and accurately. The combination of microphones effectively blocks external noise when you're outside and makes your calls sound clear in quiet places.
So, this lets you enjoy your phone calls clearly and lets you make Bixby commands that can be heard even in windy, noisy environments. The quality is already taken care of, you just get to enjoy it.
Built-in Adaptive Dual Microphone for clearer phone calls & Bixby command delivery.
Adaptive Dual Microphone blocks out noise in noisy environments & provides clearer call audio in quiet environments.
Simple, Convenient charging anywhere you go
Charging with a cable is no longer necessary. The Galaxy Buds charging case supports wireless charging, so placing the case on a wireless charging pad is all you have to do to easily charge it. You also don't need to worry about not having a charger when your Galaxy Buds run out of battery. If you have a Galaxy S10, you can simply activate its Wireless PowerShare feature and place it on the back of the Beyond to charge your case. 
Supports wireless charging.
Supports Wireless PowerShare with the Galaxy S10 for Device-to-Device wireless charging.
Get what you want without a screen
Control your phone without using a screen! The Galaxy Buds can send your voice commands to your phone's Bixby* system for easy control of your phone without taking it out of your bag or pocket. So, you can play music or send messages with just your voice. Bixby also lets you control the Galaxy Buds' Ambient sound function and check things like the battery level. By combining the Galaxy Buds and Bixby, you'll know what it means to have a truly wearable device.
Screen-free control of your phone and Galaxy Buds with Bixby
Simple Bixby activation by tapping & holding the touchpad
Automatic sound switching
The Galaxy Buds will detect how many earbuds are in its case and will switch the sound output to mono or stereo based on how many earbuds are in the charging case. If you put both Galaxy Buds into the charging case, the music will stop automatically. 

• Automatically switches between mono and stereo based on the number of earbuds in its cradle 

If you're only using one earbud, make sure to put the other earbud back in the case. Keeping the earbud in the case will not only keep you from losing the earbud, but the battery will drain when the earbud is not in the case. 
We would love to know your feedback to help us improve. Please click the submit button to tell us what you think.
Please answer all questions.