Troubleshooting Guide for Samsung Galaxy Watch
Last Update Date :
Dec 12. 2018

Before contacting a Samsung Service Centre, please attempt the following solutions.
Galaxy Watch does not turn on
When the battery is completely discharged, your Galaxy Watch will not turn on. Fully charge the battery before turning on the Galaxy Watch.
Use only Samsung-approved chargers, batteries, and cables. Unapproved chargers or cables can cause the battery to explode or damage the Watch.
Before charging the battery, ensure that the charging terminals of the Watch and the wireless charger dock are free of foreign material, such as sweat, liquid, or dust. Clean the charging terminals with a soft dry cloth. 
If device is not turned on after charging for a enough periods, please visit Samsung Service Centre with your device for further assistance.
Touchscreen responds slowly or improperly
• If you attach a screen protector or optional accessories to the touchscreen, the touchscreen may not function properly.
• If you are wearing gloves, if your hands are not clean while touching the touchscreen, or if you tap the screen with sharp objects or your fingertips, the touchscreen may malfunction.
• The touchscreen may malfunction in humid conditions or when exposed to water.
• Restart your Galaxy Watch to clear any temporary software bugs.
• Ensure that your Galaxy Watch software is updated to the latest version.
• If the touchscreen is scratched or damaged, visit a Samsung Service Centre.
Galaxy Watch freezes or has errors
 If the problem is still not resolved, contact a Samsung Service Center.
Restarting the Galaxy Watch

If your Galaxy Watch freezes or hangs, you may need to close apps or turn off the Galaxy Watch and turn it on again.


Forcing restart

If your Galaxy Watch is frozen and unresponsive, press and hold the Home key (Power key) for more than 7 seconds to restart it.

Resetting the Galaxy Watch

If the methods above do not solve your problem, perform a factory data reset. On the Apps screen, tap (Settings) → General → Reset.
Before performing the factory data reset, remember to make backup copies of all important data stored in the Galaxy Watch.
Cannot locate Galaxy Watch with another bluetooth device
You can connect the Bluetooth headset to listen to music and have a phone conversations through it.
If the Bluetooth headset cannot locate your Galaxy Watch, follow these steps:
• Ensure that the Bluetooth wireless feature is activated on your Galaxy Watch
• Reset your Galaxy Watch and try again
• Ensure that your Galaxy Watch and the other Bluetooth device are within the Bluetooth connection range (10 m). The distance may vary depending on the environment the devices are used in
• Restart both devices and launch the Galaxy Wearable App on the Mobile Device again I
If the tips above do not solve the problem, visit a Samsung Service Centre with your device for further assistance.
Calls are not connected
• Ensure that your Galaxy Watch is connected to a mobile device via Bluetooth. If your Galaxy Watch is connected to your mobile device remotely, you cannot receive incoming calls.
• Ensure that your mobile device and Galaxy Watch have accessed the right cellular network.
• Ensure that you have not set call barring for the incoming phone number on the mobile device and Galaxy Watch.
• Ensure that you have not set call barring for the phone number you are dialling on the mobile device and Galaxy Watch.
• Check if do not disturb mode, goodnight mode, or theatre mode is activated. If one of these modes has been activated, the touchscreen does not turn on during incoming calls.
Rotate the bezel or press the Home key or Back key to turn on the screen and check the incoming call.
Battery depletes fast
• When you expose the Galaxy Watch or the battery to very cold or very hot temperatures, the useful charge may be reduced.
• Battery consumption increases when you use some apps.
• The battery is consumable and the useful charge will get shorter over time.
Heart rate is inaccurate
Check first whether you have wear the GalaxyWatch correctly.
When you activate the auto heart rate tracking feature, or when the Galaxy Watch recognizes your exercise, the Galaxy Watch will automatically track your heart rate. When measuring your heart rate, wear the Galaxy Watch snugly on your arm above your wrist as shown in the figure below.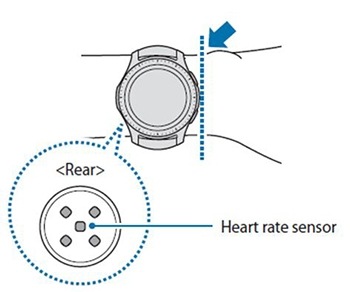 Please note:
• The accuracy of the heart rate sensor may be diminished depending on measurement conditions and surroundings
• Use the HR feature only for measuring your heart rate
• Do not look directly at the heart rate sensor's lights. Doing so may impair your vision
• Cold ambient temperatures may affect your measurement; during winter or cold weather
• Take heart rate measurements when you are seated and relaxed
• If you receive a reading that is very different from your expected heart rate, rest for 30 minutes and then measure again
• Smoking or consuming alcohol before taking measurements may cause your heart rate to be different from your normal
• Do not talk, yawn, or breathe deeply while taking heart rate measurements
• Heart rate measurement is affected by physical factors such as light absorption and reflection, such as blood circulation/blood pressure, skin condition and location and concentration of blood vessels
 • Clean the heart rate sensor when it is dirty
• If your device becomes hot to the touch, please remove it until it cools
Need help? Contact Us for Support.
Online
Live Chat
24 hours a day/7 days a week
(Including Public Holidays)
Email
We'll respond within 24 hours of your request.
Phone Support
Before calling us, there are some information we need to obtain from you. Please get ready with model code, serial number and date of purchase.
Note : Call conversation is recorder for quality, monitoring and/or training purposes for our continuous quality improvement.
For Mobile Devices (24/7)
#GALAXY (just dial #425299)
[Free access for all Networks ]
(02) 8-422-2177 [Standard Landline]
For Television, Audio & Digital Appliances (8:00 AM to 8:00 PM)
1-800-10-726-7864 [PLDT Toll Free]
1-800-8-726-7864 [Globe Toll Free]
(02) 8-422-2111 [Standard Landline]

* For Toll Free numbers, just directly dial 1-800 followed by the network number.
**Standard Landline numbers have been updated to comply with the NTC ruling effective October 6, 2019
Face to Face Support
* For any printer related enquiries please visit HP website .
Contact Us