Main Features of Samsung Galaxy Watch
Last Update date :
Sep 21. 2020
The Galaxy Watch is a smartwatch that can analyse your exercise pattern, manage your health and allows you to use a variety of convenient apps for making phone calls and playing music. 
By rotating the bezel, you can access convenient features quickly and easily. You can also change the watch face to your taste.

Stay connected longer. The features of a smartwatch and the natural feeling of an analog watch in a single package. Galaxy Watch links you to the world around you.

Main Features of Galaxy Watch
Timeless Design
Premium in Form
The redesigned Galaxy Watch is made of premium materials. The vintage textured body, the smooth finish, and the variety of strap options give it a gorgeous classic look.
Wherever you go, wear your Galaxy Watch with pride.
Superior Durability to Suit Your Active Lifestyle
The Galaxy Watch offers military-grade durability—a series of tests designed by the US military prove it's fit for the battlefield.
Scratch-resistant and 5 ATM water-resistant, it's perfect for water sports and outdoor adventures. Plus it goes with all sorts of
attire, casual or formal. Get moving with the Galaxy Watch while keeping the style.
• Circular design & vintage textured body
• 5 ATM  water resistance
• Scratch-resistant Gorilla Glass DX+
• Perfect for outdoor activities
Customizable Watch Faces
With the Galaxy Watch, you can choose from different watch faces and customize them however you like.
Make your Galaxy Watch all yours.
• Realistic watch faces with a depth effect & enhanced AOD
• Ticking Sound option like an analog watch*
* This option is provided only for watch faces with hour and second hands.
Bigger Watch, Bigger Battery
If you choose the 46 mm model, you get a battery that's much more powerful battery.*
The upgraded chipset is highly power efficient, so the battery lasts a full day even if you enable GPS.**
When you're wearing a Galaxy Watch, you won't waste time worrying about where to charge it.
• Exynos 9110—up to 35% more efficient
• Battery lasts over 80 hours** in Bluetooth mode (Up to 168 hours*** in Low Usage mode)
• Battery lasts up to 24 hours** when GPS is turned on
* The battery capacity is 472mAh for the 46 mm model and 270mAh for the 42 mm model.
**Only for the 46 mm model.
*** Estimated are for Low Usage mode
Intelligent Time Keeper
More Intuitive Time Management
Put your Galaxy Watch in My Day watch face for a comprehensive time management system. 
View your daily schedule at a glance, keep track of what's coming up, and get reminders so you don't miss an appointment. 
Plan your day effectively and effortlessly. You'll spend less time planning your life and more time living it.
• View your schedule at a glance in My Day watch face
• Get reminded of appointments and important occasion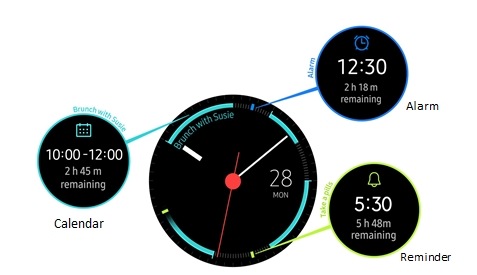 ※ Three Kinds of information available in My Day watch face
A Day Planner with a Difference
 
The Galaxy Watch delivers Daily Briefings twice a day. When you wake up, preview the day's schedule and get helpful information.
Before bed, get another Daily Briefing with a summary of how your day went and a weather forecast for the next day.
It's easier to stay organized and keep track of your goals and your progress. Boost your productivity, one day at a time.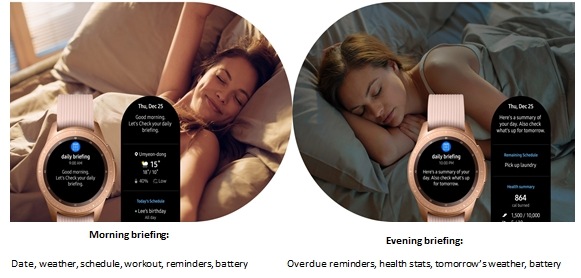 Sleep in Peace 
Goodnight mode lets you sleep undisturbed - no display lights, no ringing phone, no sound at all until it's time to wake up. Then your Galaxy Watch returns to its previous state. Or you can use Theater mode and enjoy a show undisturbed by lights or alarms.
With Do Not Disturb mode, you'll see only the AOD and hear only your alarms. Sleep well. Shut out the world. It's okay - your Galaxy Watch works for you. 
• Goodnight : Shut it all out, except for your morning alarm
• Theater : Keep darkened spaces dark, and stay off the grid until you press the Home key
• Do Not Disturb : Limit distractions while still using basic smartwatch functions like AOD and alarms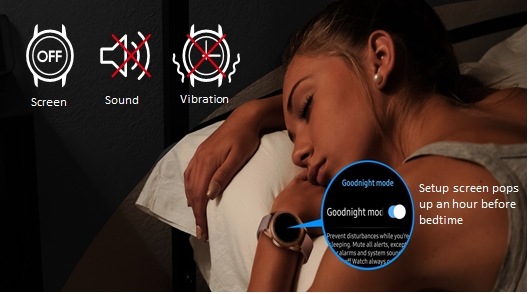 ※ If Goodnight mode is enabled while Do Not Disturb is on, the AOD will be turned off.
※ When Goodnight mode is turned off, all settings are restored to their previous state.
Personal Health Coach
More Advanced Workout Tracking
The Galaxy Watch recognizes 39 kinds of indoor and outdoor exercise and tracks your progress in detail.
Design a workout that suits you by combining activities such as swimming, and running.
Then check vital stats like maximum speed, distance covered, calories burned,and more.
Be your best self, with a wearable personal coach to cheer you on.
• Choose from 39+ kinds of exercise when planning your workout
• Track back-to-back workouts
• Track exercise time, calories burned, heart rate, distance, speed, and pace

Slicing the Water Fearlessly
Water Lock mode prevents the force of the water from inadvertently activating any functions when you're swimming.
When you select "Swimming" on Samsung Health, Water Lock mode will activate automatically.
Dive in, do your best, and always swim past your limits.
• Water Lock mode prevents water from inadvertently activating smartwatch functions
•Automatic activation when you select "Swimming" on Samsung Health
•Turn off Water Lock mode, and a sound will indicate that your Galaxy Watch is ejecting any water that got in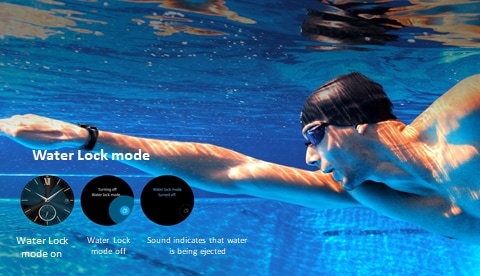 A Tool for Greater Well-Being
The Galaxy Watch's four photodiode sensors track your wellness more accurately than ever. Not only do they measure your heart rate more precisely, they've also gotten better at monitoring different phases of sleep. So you'll know if you're staying fit, managing stress effectively, and getting enough rest.
The Galaxy Watch even tells you when you need to adjust your breathing. Put your mind at ease and focus on your well-being.
The Galaxy Watch is here to support you.
• More accurate heart rate measurement with four photodiode sensors
• Checks for continuous motion to monitor sleep phases and improve sleep quality
• Checks stress levels & breathing
※ 24-hour stress-level graph will be updated via MR.
Stay Fit with Your Galaxy Watch and Your Galaxy Phone
Connect your Galaxy Watch to your Galaxy phone to turn it into a powerful health and fitness monitoring tool.
When you're exercising, your Galaxy Watch records your activity and saves your data in Samsung Health so you can keep track of your progress over time.
Live life to the fullest with Samsung Health.
• Connect your Galaxy Watch with any phone in the Galaxy S, Note, A, or J series and track your activity
• Monitor your health stats via Samsung Health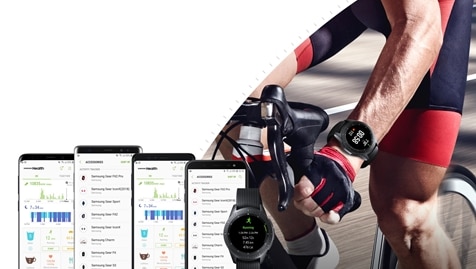 Freedom, No Matter Where You Are
The Galaxy Watch LTE models support an independent data connection, so you can enjoy a powerful standalone performance - no need to carry your phone.
The built-in speaker facilitates calls and voice messages. The GPS capabilities make it easy to check your physical location on a map.
Thanks to the altimeter, you can discover your altitude. The barometer ensures you're prepared for any sudden weather changes. And support for various streaming services makes it possible to listen to music with just your watch.
If you forget your phone at home, don't panic - the Galaxy Watchfrees you to go it alone.
• Make phone calls and send voice messages with the built-in speaker
• Check your physical location with the built-in GPS
• Keep track of your surroundings with the barometer and altimeter
• Use the standalone music player to stream music via Spotify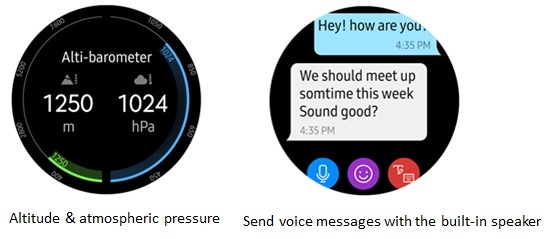 ※Bluetooth models require a smartphone connection for calling and messaging.
We would love to know your feedback to help us improve. Please click the submit button to tell us what you think.
Please answer all questions.