Software Update for Fingerprint Recognition
Last Update date :
Nov 20. 2020
Samsung is releasing a software patch to fix fingerprint issues on Galaxy Note10, Note10+, S10, S10+ and S10 5G devices. If you have registered a fingerprint on one of these devices, you will receive a notification with instructions. This update is being sent out gradually, so you may not receive the notification immediately.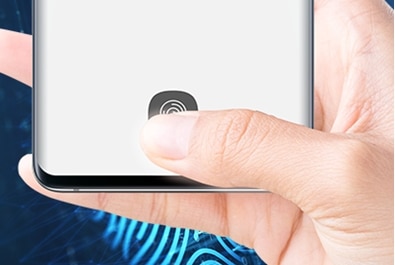 If you've used a screen cover, such as a silicone cover with a textured surface on the inside, the texture itself may be recognized as a fingerprint that can unlock your phone. 
1
Once you receive an update notification titled Biometrics update, tap Update.
2
After the update is complete, restart your phone.
3
If you've used front screen covers in the past, remove all fingerprints from your phone and register them again without a cover applied
Samsung cannot ensure optimum fingerprint registration or scanning unless the software has been updated to the latest version, and strongly recommend users to refrain from using screen covers, such as silicone covers with textured surfaces inside. Once updated, please be sure to scan your fingerprint in its entirety, so that all portions of your fingerprint, including the center and corners have been fully scanned.
Samsung takes the security of our products very seriously. We will strive to continuously test and improve our biometric authentication features through further updates.
Frequently Asked Question

Q: I have not received any notifications for a new software patch.
A: Please note that the notification will be sent gradually only to customers that have fingerprints registered on their phone. Notifications will not be sent if fingerprints have not been registered. Thank you for your patience and understanding.
Q: I cannot clear the software update notification on my device.
A: We highly recommend installing the update as it contains important improvements to your fingerprint scanner. Please note that the notification cannot be removed until the update is installed.
Q: Why do I need to re-register my fingerprint after the update is complete?
A: If you have used screen protective covers in the past, fingerprints registered on your device may contain incorrect fingerprint information that may reproduce the recognition issue. If you have registered fingerprints on your device with a screen protector on, or have used the fingerprint scanner with a screen protector on please delete all previous fingerprints and re-register fingerprints without a cover applied. 
Q: After updating the device to latest software version or Android Q OS,  a pop-up message that notifies to register fingerprints appears whenever rebooting.
A: When rebooting the device,  a Pop-up guide appears to recommend that you remove all your fingerprints and register them again for better and more secure recognition. However you can maintain the existing registered fingerprints. For security enhancement, use your device without the front cover regardless of front cover's form. use the highest central parts of fingerprint or the most curved part of fingerprint when you register or scan fingerprint


We would love to know your feedback to help us improve. Please click the submit button to tell us what you think.
Please answer all questions.