Tips to make the most out of your Galaxy phone's battery
Last Update date :
Oct 11. 2021
If you're worried about the battery draining quickly while using your Galaxy phone, here are some tips to reduce battery consumption. Check the various options below that may help you conserve battery power.
Before you try the recommendations below, be sure to check if your device's software and related apps are updated to the latest version. To update your mobile device's software, follow these steps:
Step 1. Go to Settings > Software update.
Step 2. Tap on Download and install.
Step 3. Follow the on-screen instructions.
Extend the battery's usage time
You can check the remaining battery power and time to use the device. You can also closely monitor how much battery your apps are using. To check this,
Step 1. Launch the Settings app, and then select Battery and device care.
Step 2. Tap Battery.
Step 3. The remaining battery power and time will appear at the top of the screen.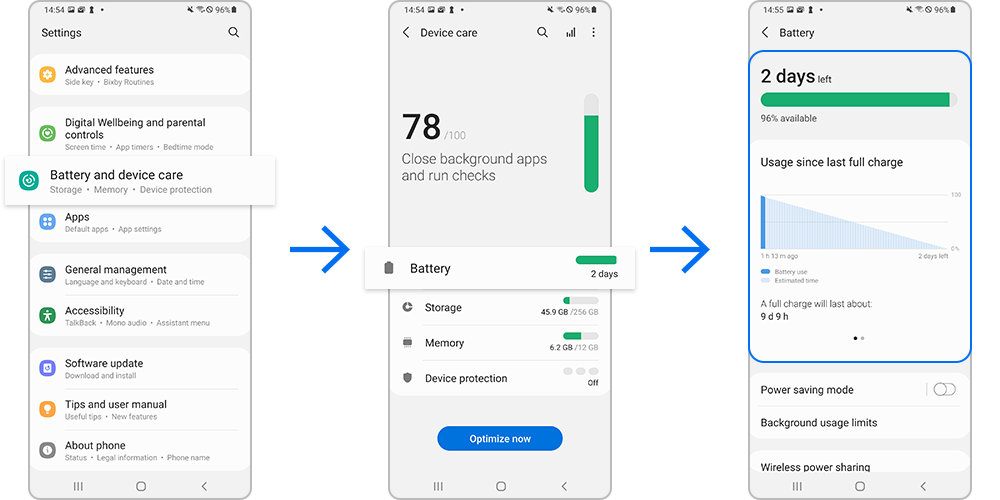 Note: 
The usage time left shows the time remaining before the battery power runs out. Usage time left may vary depending on your device settings and operating conditions.
You may not receive notifications from some apps that use power saving mode.
Besides that, to help you conserve battery power, it is recommended to deactivate auto-syncing of apps that need to be synced and turn off the screen by pressing the Side key when you are not using the device.
Note: Device screenshots and menu may vary depending on the device model and software version.
Please answer all questions.