How to fix unplug charger error on Galaxy device?
Last Update date :
Sep 16. 2022
There are numerous reasons why your phone can feel warm, such as heavy phone use, exposure to extreme heat, or charging. If your phone is too warm while charging, you may even receive a notification telling you to unplug the charger.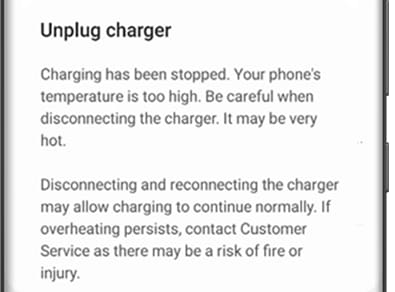 During wireless or wired charging, the device and the charger may become hot. If the device heats up or the ambient air temperature rises, the charging speed may decrease automatically.
When the device heats up during charging, the algorithm to protect the device from overheating operates and it may stop charging with a message pop-up about "Unplug charger" and the features and performance may be limited. This is a normal operating condition to prevent damage to the device. At that time, wait for the device to cool down and then begin charging the device again.
We would love to know your feedback to help us improve. Please click the submit button to tell us what you think.
Please answer all questions.