The benefits of upgrading phone software
Last Update date :
Jul 25. 2022
Samsung periodically releases software updates.  Samsung recommends keeping your device software up to date and back up any important data before updating the software. Upgrade to the latest software available for your phone, and enjoy enhancements like new features, extra speed, improved functionality, OS upgrade and fixed for any bug.
What are the benefits of software upgrades?
Release the up-to-date software version continuously for:
1. Improvements in performance and stability.
2. Resolve the potential problems by fixing bugs and errors.
3. OS upgrade and new features experience.
Check for software updates
Step 1. Go to Settings > tap Software update.
Step 2. Tap Download and install.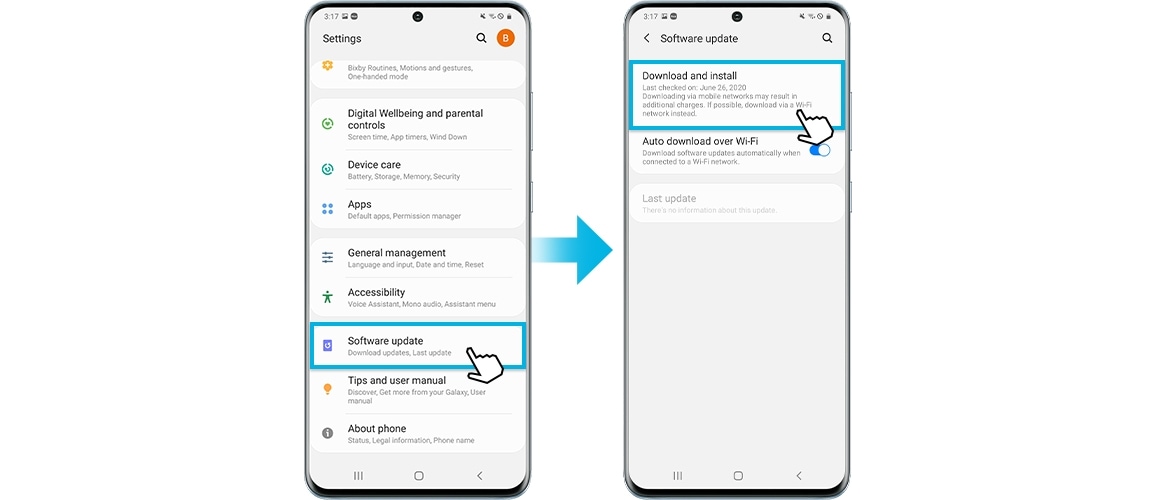 Step 3. If new software is available, you can choose Install now, Schedule install or Later. 
Software updates via Smart Switch
Not only is Smart Switch great for transferring data, but it's also an easy way to update your device's software. When you open Smart Switch on your Windows PC or Mac, you will see an option to update to a new software version if one is available.  
Updating software via Smart Switch can be found on How to update software using Smart Switch.
Note:
Make sure the battery is sufficient before updating.
On some phones, it may say 'System updates' instead of 'Software update.'
Depending on your software version, it may be necessary to repeat this process multiple times.
Device screenshots and menu may vary depending on the device model and software version.
If you're experiencing unusual behavior on Samsung mobiles, tablets, or wearables, you can send us an error report or ask us a question in the Samsung Members app. This allows us to take a closer look at what is happening. The data is anonymized and only held for the duration of the investigation. Find out more about how to send an error report here: How to use the Samsung Members app.

We would love to know your feedback to help us improve. Please click the submit button to tell us what you think.
Please answer all questions.