What is Live Stickers and how to use it
Last Update date :
Jun 08. 2021
With the Live Sticker feature, you can capture photos and videos with various 3D live stickers. As you move your face, the sticker (such as glasses or hats) will track your movements, where you can open your mouth or blink and the sticker will react.
3D live sticker: Apply a sticker such as glasses or a cap on your face.
 Live sticker: Open your mouth or blink your eyes as instructed to preview how the sticker moves.
Note:  Device screenshots and menus may vary depending on the device model and software version.
How to apply 3D Live Stickers
Step 1. Open the Camera app > Tap AR EMOJI.
Step 2. Select a sticker. Look at the camera and the emoji will repeat your actions.
Step 3. Take a photo or record a video with the button.
Step 4. Customize your live sticker with 3D live items such as glasses or caps.
How to apply Live Stickers
Step 1. Open the Camera app. Then tap AR Emoji.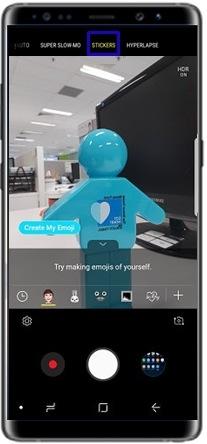 Step 3. Select a sticker. The sticker will move along with your face's movements and angle.
Step 4. Tap the camera shutter button to take a photo or to record a video.
We would love to know your feedback to help us improve. Please click the submit button to tell us what you think.
Please answer all questions.