How to change picture size on a Samsung TV
Last Update date :
Apr 23. 2021
If the output picture on your Samsung TV is cut off from the sides or looks a little stretched, we must customize it to get the best viewing experience.
Most Samsung TVs will allow several different options for changing the Picture Size. Depending on the TV and input signal, you may be able to change the picture size.
Adjusting the picture size settings
1
Press the Home button on your remote control.
2
Use the Directional Pad on the Remote Control to navigate to Settings. Alternatively, you can select Settings from the TV directly.
3
Press Enter on your remote.
4
Select Picture.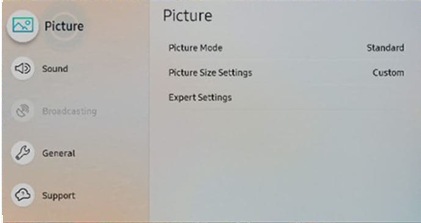 5
For 2017 and newer models, select Picture Size Settings > Picture Size. For 2016 models, select Picture Size.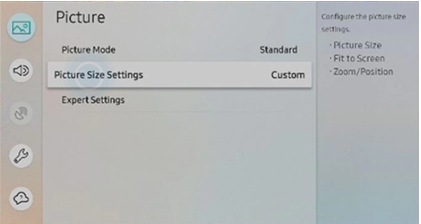 Choose the Picture Size that best fits your viewing needs.

16:9 - Display the picture in the widescreen aspect ratio.

Custom - Customize the aspect ratio manually.

4:3 - Display the picture in Standard (low-def) aspect ratio. Suitable for VHS and standard-def broadcasts.

Fit to Screen - The full image will be displayed. No part of the image will be cut off. Please note that the availability of this function depends on the Picture Size Settings.

Zoom and Position - Adjust the picture size, position, or both. Please note that this function is only available if the Picture Size is set to Custom. To change the picture position on analog channels, enlarge the picture first, and then change the position.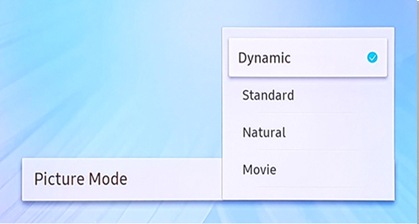 6
For some models, you can also select Fit to screen or Zoom/Position as additional options.
Using the picture test
When the TV has trouble with the picture, there are a few things you can try to resolve the problem. You can check picture issues using the Picture Test to determine if picture problems are being caused by the TV itself or something else. 
Note: The methods provided below are the most common. For model-specific information, check your TV's user manual. 
We would love to know your feedback to help us improve. Please click the submit button to tell us what you think.
Please answer all questions.