How to connect a Soundbar to the TV using Bluetooth
Last Update date :
Jun 11. 2021
Even though the TV has its own internal speakers, external speakers can produce better sound. That's why people use a Soundbar and Home Cinema system. Connect your external audio device and enjoy better sound.
How do I know if my TV supports Bluetooth
If your TV came with a Smart Remote then it definitely supports Bluetooth as that's how the remote pairs to the TV. 
To check whether your Samsung TV is Bluetooth compatible,  go to the Settings menu then tap Sound > Sound Output.  If the option Bluetooth Speaker List appears, then your TV supports Bluetooth.
Note: This option varies by model but is generally located in the TV menu under Sound or Audio. You can check to see if your specific model supports Bluetooth in your user manual.
Connect your Soundbar through Bluetooth

A Bluetooth connection does not provide the same sound quality as HDMI, but it's been loved because of its advantage of being wireless. The main challenge with Bluetooth is that the connection can be unstable due to external factors like a power outage or other electrical devices. Follow the steps below to connect your external speakers through Bluetooth.
Step 1. Press the Home button on your remote control to bring up the Smart Hub and then select Settings.
Step 2. Go to Sound Settings and select Sound Output.
Step 3. Select the Bluetooth Speaker List.
Step 4. Select your Bluetooth speaker and then select Pair and Connect.
Note: Once the paring is complete, a pop-up box will appear confirming that the Bluetooth speaker has been connected.
Troubleshooting the Bluetooth connection problem

Method 1: Disconnect the power cord of the external speaker and connect again.
Method 2: Delete every speaker from the Bluetooth speaker list of the TV and find your Bluetooth speaker again and reconnect. (TV Home menu > Settings > Sound > Sound Output > Bluetooth Speaker List)
Troubleshooting sound played simultaneously on both speakers

When watching TV by connecting the soundbar with Bluetooth, when the sound is simultaneously played from the soundbar and the internal speaker of the TV, you can adjust the sound output as follows.
Step 1. Press the Home button on your remote control to bring up the Smart Hub and then select Settings.

Step 2. Select Accessibility in the General menu.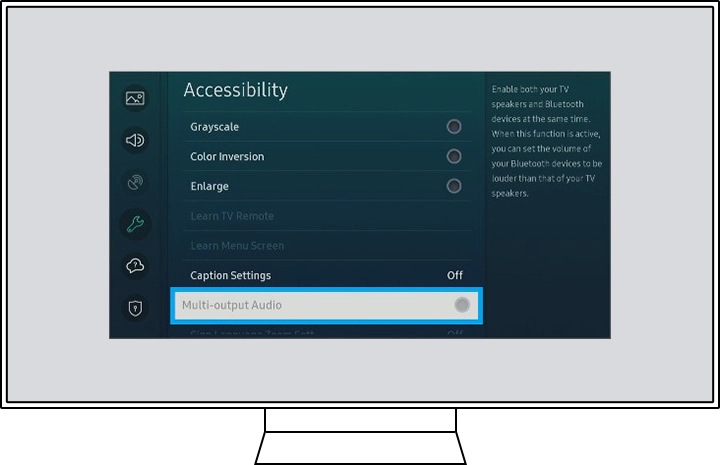 Step 3. Select Multi-output Audio and press enter to deactivate.