How to setup your Samsung TV
Last Update date :
Nov 20. 2020
As the centerpiece in your home, Samsung Smart TVs are dedicated to giving you access to a world of content beyond streaming so you can schedule recordings, search and game all while connecting to more devices across your home.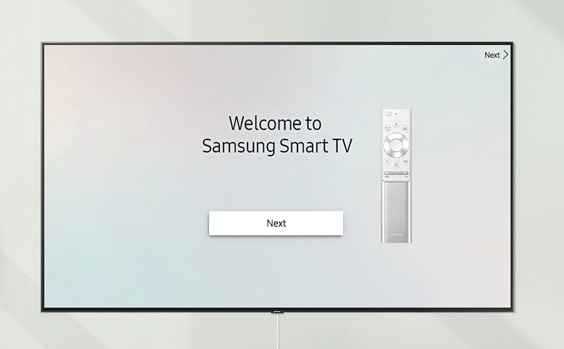 Whether you have just gotten a brand new TV or you had to reset it, you'll need to complete the initial setup - including pairing the remote, connecting to Wi-Fi, and adding your Samsung account

Turn on your TV for the first time
Pair Samsung Smart Remote to the TV
Point the Smart Remote at the remote control sensor on the TV. On most Samsung TVs, the remote control sensor is located on the lower right hand side of the TV. If not, it is directly in the bottom center.
Next, press and hold the Return and Play/Pause buttons simultaneously for at least 3 seconds. Your TV will begin syncing with the Smart Remote. Then a message will appear, indicating that the remote is now connected to your TV.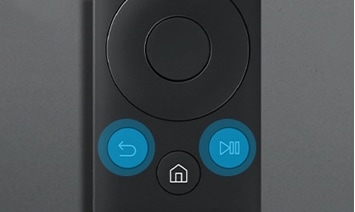 From the initial setup, use the Up and Down buttons on the remote's directional pad to navigate to your desired language. Then, select your desired language.
Set up your TV with SmartThings
Note: This feature is only available on certain models. If you are not prompted to set up the TV with SmartThings, you will be prompted to connect to a network.
After selecting the language on your TV, you will be prompted to set up your TV with your phone via the SmartThings app: First, make sure your phone and TV are signed into the same wireless network.
Step1: Open the SmartThings app on your mobile.
Step2: Tap ADD NOW on your phone and enter the PIN displayed on your TV.
Step3: Tap DONE and wait until your TV registers your Samsung account. When it's done, select Next, confirm your ZIP Code. Follow the on-screen instruction.
Connect the TV to the internet
To use apps, stream videos, or use other services, your TV needs to have an internet connection, whether it's wireless or wired.

Wireless Network
Step1: Use the directional pad on your TV's remote to select Settings, select General, and select Network.
Step2: Select Open Network Settings, and select the name of your Wi-Fi network.
Step 3: Enter the network password, if prompted, select Done, and then select OK.
Step 4: Review the Smart Hub Terms & Conditions, Privacy Policy, select I Agree to all, and then select OK.
Wired network
Step 1: Connect an ethernet cable to your One Connect Box or the back of your TV, and then select Wired.
Step 2: From the Home screen, use the TV remote to navigate to and select Settings, select General, and select Network.
Step 3: Select OK, and your TV will connect to the internet.
Step 4: Review the Smart Hub Terms & Conditions, Privacy Policy, select I Agree to all, and then select OK.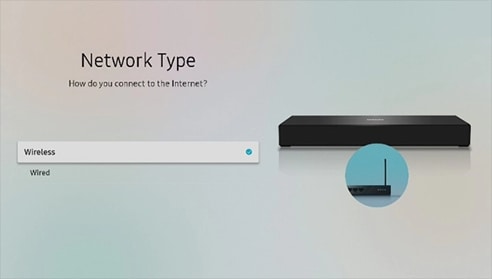 Sign in or create a Samsung account
A Samsung account is required to use certain services or apps on your TV. For example, if you want to rent or purchase movies or shows on your TV, you'll need your Samsung account.
Step1: Navigate to and select Settings and then select General.
Step2: Select System Manager, and then select Samsung Account.
Step3: Select Sign In, and then enter your Samsung account information.
Step4: When you're done, select Sign In again. Next, select a profile picture for your Samsung account. Finally, select Done to finish signing in.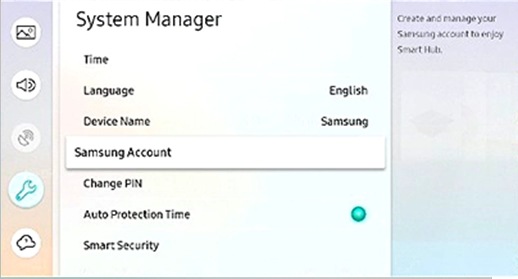 If you don't already have one, you can create a Samsung account from your phone or computer.
.To create a Samsung account, Select Agree to the Samsung account Terms & Conditions and Privacy Policy.
Enter your information, and then tap Create account. Your Samsung account setup is now complete.
Set up your device and control them with the Universal Remote
Every device has a specific connection port. Please read the user manual of the device you want to connect to ensure proper connection.
Some Samsung TVs even come with a One Connect box  that makes organizing and controlling different devices even easier.
Using multiple remotes for all your external devices can get confusing. Using the universal remote feature, you can control cable and satellite boxes, home theatre systems, and Blu-ray players.
First, connect an external device (such as a Blu-ray player) to the HDMI port of the TV, and then power on the external device. Your TV will automatically recognize the device when connected through HDMI, and will switch the output. If it doesn't automatically detect it, then keep following the steps to set up Universal Remote.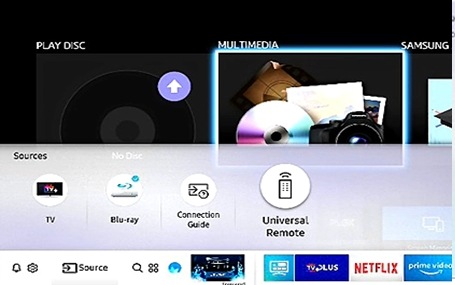 Step1: Press the Home button on your TV remote to access the Home Screen. Using the directional pad on the remote, navigate to Source. When the selector is placed over Source, the Source menu will appear. Press UP on the directional pad to access Universal Remote. 
Step2: Select Universal Remote on the Source screen. Next, select Start and make sure the device you want to connect is turned on. When your desired device displays, select it. Follow the on-screen instructions to complete the setup and register the device. The instructions may vary, depending on the device type selected. 
Step3: Your TV and the remote will memorize the external device and its connection port (HDMI 1, HDMI 2, etc.) to make controlling everything even easier.Occasionally, the device may not respond after it's registered. To make sure the connection is made, you need to re-register the device.