How to update software and firmware on Samsung Smart TV
Last Update date :
Nov 03. 2022
The software update lets you upgrade your TV's software to the latest version. It can keep your device compatible with your favorite streaming apps, improve performance and fix potential bugs. You should always check to see if there are any software updates available as these may contain a fix for your problem. 
You can update your TV's software over the internet or using a USB flash drive. Just keep in mind that after a software update your video and audio settings might automatically be reset to defaults.

Note:
Do not turn off the TV, unplug the power, or pull out the USB drive during the update. It could cause a firmware error.
You can find the model code in the Support menu > About this TV, or on the back of the TV.
Most TVs will get updates that offer new features for about two years. Updates after that are generally for fixing issues.

Update automatically
If the TV is connected to the internet, you can have software updates installed automatically. Once the update is complete, it will be applied the next time the TV is turned on. Also, when you agree to Smart Hub Terms and Conditions in the initial setup, Auto Update is set to On automatically.
Using your TV's remote, navigate to Settings, and then select Support. Select Software Update, and then select Auto Update to turn it off or back on.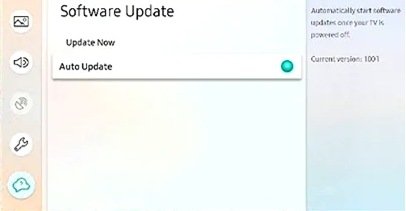 Update manually
Using your TV's remote, navigate to Settings, and select Support. Select Software Update, and then select Update Now. New updates will be downloaded and installed on your TV.  This may take several minutes, depending on the nature of the update. 
Please do not turn off the TV until the update is complete. When the update is finished, the TV will restart automatically. If there aren't any new updates, select OK to exit.
Update using a USB drive
If your TV is not connected to the Internet, it is a good idea to update your TV via a USB drive. For this, you will need a USB drive and a PC with an Internet connection. Try the following steps.
Step 1. To download the latest software updates, visit the Samsung Support page You can either select your Product type and then search for your TV, or select Enter Model Number to access the support page for your specific TV model. On the page, locate the Upgrade file for your TV under Manuals and  Downloads. If you find multiple firmware versions, install the newest version.

Step 2. Unzip the contents and store them on your USB drive. Save the upgrade file on the USB drive's root directory so that the TV can locate that.

Step 3. Insert the USB drive into the USB slot on your TV.

Step 4. The firmware update will start automatically.

Note: Screen images and menu items may vary depending on your model and software version.
We would love to know your feedback to help us improve. Please click the submit button to tell us what you think.
Please answer all questions.