Screen Mirroring on TV with Galaxy S5
Last Update date :
Nov 11. 2020
The screen mirroring feature allows you to mirror your phone or other compatible mobile device's screen onto the TVs screen wirelessly. This feature allows you to use your big screen television instead of your devices smaller screen for showing content, media playback, or other function.
Enabling Screen Mirroring on TV
1
To prepare the TV to connect with your device press the SOURCE button.
2
Navigate to and select the Screen Mirroring source.

3
Your TV will display a screen informing you that it is awaiting a device to be connected. This screen will be displayed until your device is connected.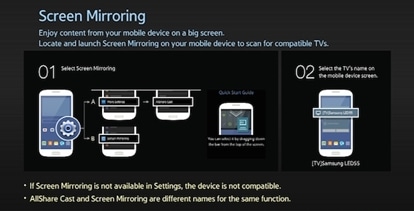 NOTE: If you do not connect your device within 2 minutes the scan times out.
Enabling Screen Mirroring on Galaxy S5
1
Swipe down from the top of the screen for the Notification menu. Enable Screen Mirroring by tapping the Screen Mirroring icon.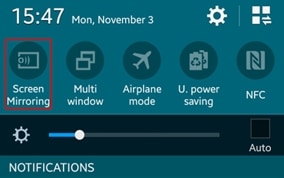 Note: You can enable Screen Mirroring from the settings menu as well.

2
The Galaxy S5 will scan for the TV. If it does not find it try to get within 3 feet of the TV.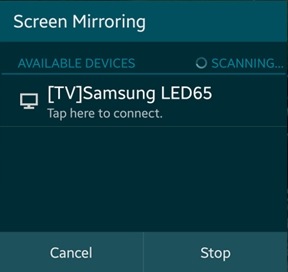 3
Tap on the TV to connect to it.
4
Your Phone screen will now be displayed on the TV. You can access the screen mirroring setting in the Notification menu.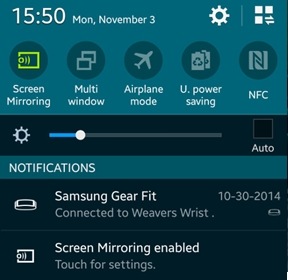 You can use this connection to:
• Show pictures stored on your external device.
• Watch videos stored on your external device.
• Watch videos from Apps on your external device.
• Play music through your TV's speakers instead of your external device's.
• Have people watch the game you are playing.
Note: There is usually a slight lag between the actions performed on the external device so you will not be able to watch the TVs screen while playing fast paced games where timing is critical.
We would love to know your feedback to help us improve. Please click the submit button to tell us what you think.
Please answer all questions.