Simplified in-store interactions
Boost every customer experience with the intuitive all-in-one payment and ordering system. Kiosk delivers more flexibility with every order for simplified yet personalized interactions.
Eye-catching compact design
Add a stylish pop to existing environments no matter the backdrop. Samsung Kiosk's compact size looks great on its own, or with its neutral grey-white tones, blends naturally in any store.

Versatile installation options
Maximize space savings in your existing store with easy installations. With more ways to install, new stores can naturally integrate Kiosk for more impactful experiences.
Thoughtful enhancements for everyday use
Keep your customers top of mind. A shatterproof film prevents glass from dispersing during an accident for increased safety, while an antimicrobial coating helps to prevent bacteria growth for continuous use.
* To perform its antibacterial function, this product has been treated with the biocidal substance Zinc Pyrithione.
* Antibacterial property does not protect users against bacteria and provides no protection against viruses including Covid-19.
* Antimicrobial Coating is on surface of screen only and the effect may vary depending on kind of bacteria or conditions of use.
* Antibacterial certification: UL2282 which is granted when the antibacterial effectiveness is more than 99%. (Test method(JIS Z 2801): after inoculation of 0.4cc of liquid with bacteria(Escherichia coli and Staphylococcus aureus) on specimen(5cm x 5cm), a sterilized film(4cm x 4cm) is adhered and left in a thermo-hygrostat with a relative humidity of 90% or more at 35°C for 24 hours, and then the efficiency of killing of the bacteria is measured / Test agency: FITI Test Research Institute)
* For further details regarding regional restrictions on the antimicrobial function, please refer to each country's Samsung.com website.
* A shatter-proof film is applied to the screen to help mitigate the hazard of shattering glass, but is does not protect the screen from physical impact.
Streamlined Management
Solve problems faster from anywhere. Remote management allows you to diagnosis and resolve issues on deployed Kiosks from any web-accessible device with ease.

* MagicINFO license must be purchased separately for use of management solution. * Please refer to www.samsung.com/business or www.samsung.com/displaysolutions for system requirement of MagicINFO.
Multi-layer security protection
Keep customer information secure. Samsung Knox technology enhances protection at every layer to protect businesses and customers from external security threats.

Success story with Samsung Kiosk
Discover how Samsung Kiosk helped wide range of customers succeed.
Café Gratitude
This independent café turned to Samsung Kiosk for an instant boost in their operations.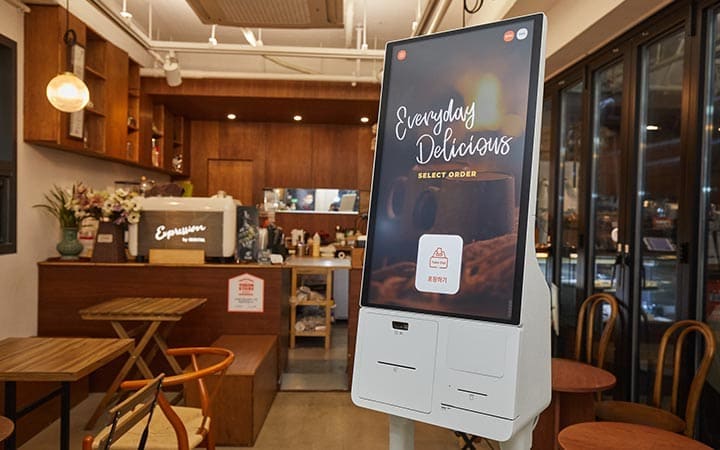 Burger Sshow
This homemade burger restaurant became smarter and increased sales thanks to Samsung Kiosk.

Asia Pacific
Evantek Pte Ltd
Singapore
Evantek is specializing in System Integration Services. Our expertise as a Systems Integrator assists in the company delivering stable solutions and achieving increased customer satisfaction in Singapore and around the region.


Quest Payment Systems
Melbourne, Australia
Quest is an Australian-owned payments technology company providing a diverse and innovative range of secure, end-to-end payment solutions to businesses and financial institutions globally. As the country's leading full-service payment solution supplier, delivering a locally designed and manufactured range of payment terminal hardware, Quest delivers both mass market and custom solutions leveraging over 30 years of development expertise.
Samsung SDS
Seoul, Korea
Samsung SDS solutions have led the digital transformation and innovation of our clients for over 30 years across a wide range of industries. Our solutions utilize advanced analytics platforms, AI, and blockchain technologies to serve a diverse range of industries, including financial services, smart manufacturing, global logistics, and retail.
UNOS Inc.
Anyang, Korea
UNOS Inc. specializes in self-service kiosks and point-of-sale (POS) technologies in both hardware and software, primarily for franchises and small business owners. Under the name of UNOSPAY, the company is provides payment and business management solutions to nearly 4,000 stores in South Korea and serves a variety of customers, including local governments as well as cultural and educational institutions and e-commerce companies.
Yanolja Co.,LTD.
Seoul, Korea
Yanolja is the fastest-growing No.1 OTA, providing all services for travel, including accommodation, leisure and transportation. It is one of the largest franchise operators in Southeast Asia, managing more than 10,000 rooms while also powering a full-stack hospitality company, supplying an integrated hotel platform by effectively utilizing IoT, AI and blockchain technologies.
NowBusking
Seoul, Korea
NOWBUSKING operates NOWWAITING, a service that optimizes and transforms digital customer behavior for offline F&B stores. NOWWAITING creates value through real-time wait management services, an all-in-one POS/KIOSK system and convenient CRM, now used by over 56% of the South Korean population.


KM24A
Screen Size 24"
Full HD Resolution
Capacitive Touch Type
QR/Barcode Reader
Receipt Printer
Tizen 4.0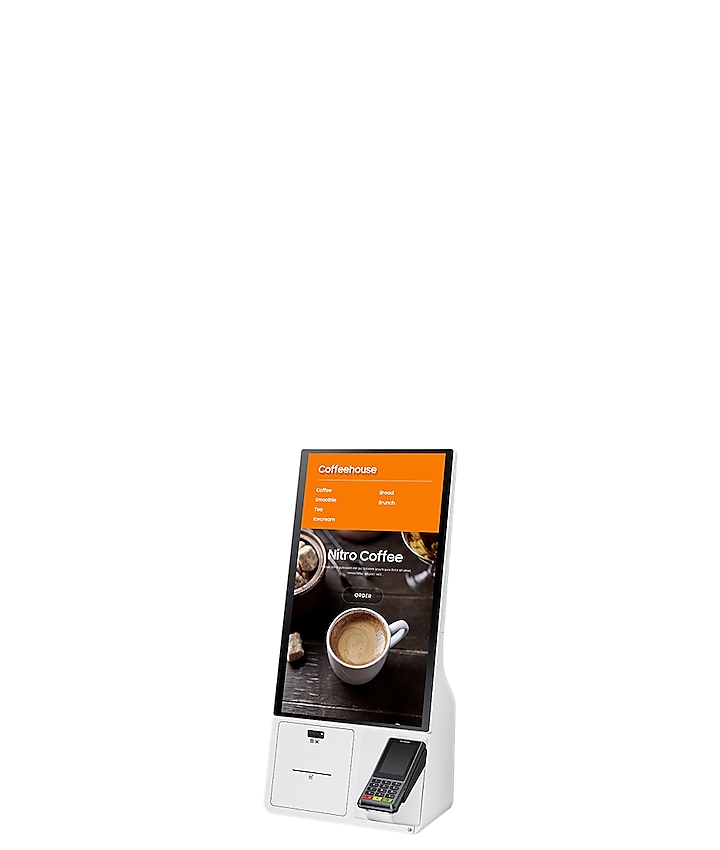 Floor Stand (STN-KM24A)
Grey-white Color
Clean and Convenient Cable Management