Designed to fit all these lifestyles
Productive WFH environment

Simple relaxation at home


Improved virtual education


The one essential for WFH
Welcome office productivity into your home. The Smart Monitor is all you need for peak productivity, convenient connectivity, and minimalist setup - without a PC.
Work Without A PC
I have no PC. How can I work from home?
Office productivity, wherever you are
One of the things we miss about the office is the huge workstation. Bring it home with the Smart Monitor. Get access to your work desktop and create a PC-less home working environment through Remote Access and Office 365.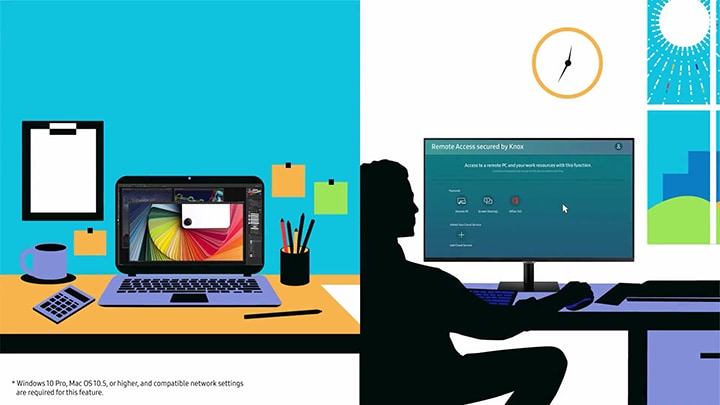 A PC experience, without the PC
Tired of switching between your phone and computer? Samsung DeX brings more continuity to your workflow. This PC-less desktop experience lets you use mobile apps seamlessly across different devices — including the Smart Monitor.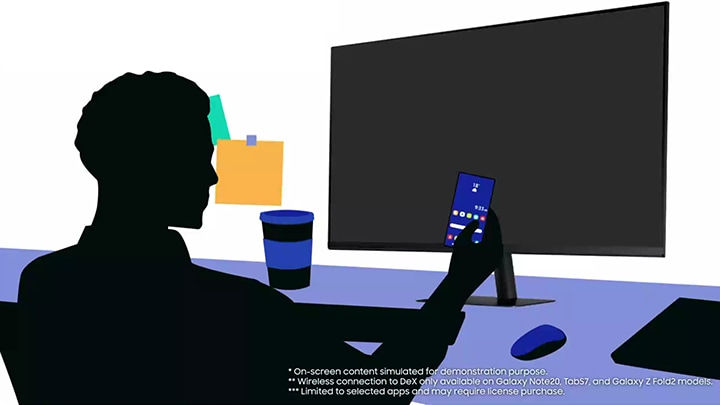 Wireless Setup
How can I keep my desk tidy?
Connect without clutter
Keep a clear workspace by connecting devices wirelessly. Effortlessly stream, mirror, or cast your phone to enjoy content on the large display. With Tap view, it's as easy as tapping your phone against the Smart Monitor.
Use with your Apple devices
See your MacBook more clearly. AirPlay compatibility lets you even wirelessly connect your Apple devices. Even with your iPad or iPhone, the Smart Monitor gives you an immersive UHD big-screen experience for work or play.

The monitor made for me-time
Fully loaded with all your entertainment. When it's time to take a break, just switch on your monitor to enjoy built-in streaming apps on the big screen.
Simple Entertainment
Is there a simpler way to chill?
Just press play to relax
All your favorite streaming apps? Check! Kick back and take a break with the monitor that brings you full entertainment without a PC. Play a game, do a workout, or indulge in a movie to mark the end of your working day.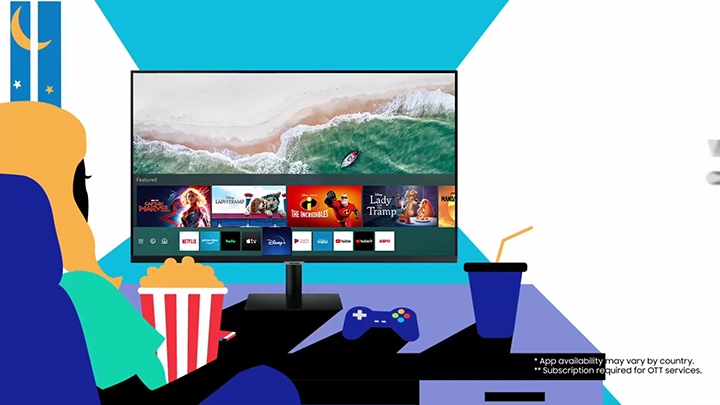 Tell the monitor what you want
When you need to switch the channel or adjust the volume, there's no need to walk over to the monitor. Just like a TV, the Smart Monitor features its own dedicated remote control with a built-in voice assistant.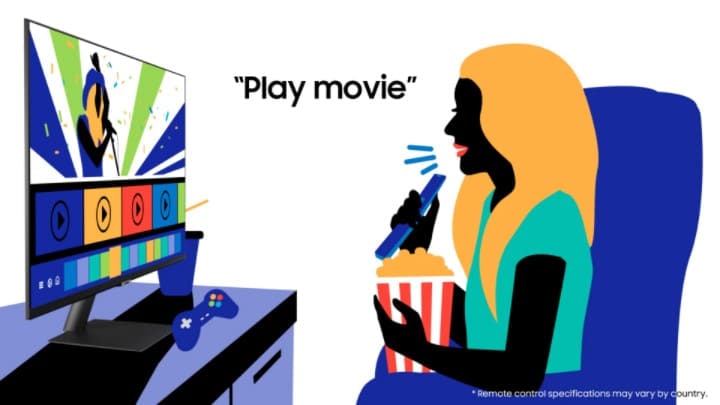 Immersive Entertainment
How can I see my small screen on the big screen?
Enjoy phone content on the big screen
Sometimes it's frustrating to view big content on a small phone. With casting and screen mirroring, have a big-screen experience when you look at funny memes, cat videos, and trip photos.

Immerse yourself in cinema
With built-in speakers, the scene is set for submerging yourself into your favorite movie.

Your window to the virtual classroom
Breeze through the remote school year. The Smart Monitor helps you focus on tasks and set yourself up for success, even without a PC.
Pc-Less Learning
Can I still study without a PC?
No PC? No excuse to skip class!
Stay on top of every paper and study session with the practical, easy-to-use screen. Now, you can write essays, email your tutor, and attend virtual classes without even turning on your PC.

Ultimate Eye Comfort
How do I stay focused in virtual lessons?
Eliminate eye strain for total concentration
Got assignments due? Don't let eye strain interrupt your study session. Eye Saver Mode decreases harmful blue light, Flicker Free technology prevents screen flickering, and Adaptive Picture detects your surroundings, then auto-adjusts the screen to its optimal brightness. Even in back-to-back lectures, stay comfortable and focused.

M7 Series
ㆍSimplify your chill time with Smart TV apps
ㆍEnjoy phone content on the big screen through Samsung DeX and Tap View
ㆍWork remotely through Remote Access or Office 365 without your PC
ㆍView more details with UHD resolution
M5 Series
ㆍSimplify your chill time with Smart TV apps
ㆍEnjoy phone content on the big screen through Samsung DeX and Tap View
ㆍWork remotely through Remote Access or Office 365 without your PC

M5 White Series
ㆍSimplify your chill time with Smart TV apps
ㆍEnjoy phone content on the big screen through Samsung DeX and Tap View
ㆍWork remotely through Remote Access or Office 365 without your PC