How to pair Smart Touch Control with Samsung 2014 TV?
Last Update date :
Nov 19. 2020
Please note: While pairing your TV with remote control
• Power on the TV
• Keep the remote within half a metre of the TV
• Aim the IR emitter on the front of the remote control at the TV's IR receiver
• All the buttons on the remote control send Bluetooth commands except the Power button. The Power button sends an IR command. If your remote control does not have line-of-sight with your TV, the Power command will not be received. This also means that the Power button will power on and off the TV even if the remote control is not paired with the TV
To pair your Smart Touch Control with your TV, press and hold the Return button and the Guide button on the Smart Touch Control simultaneously for three seconds.

Watch the lower-left portion of the TV screen for pairing information. Wait for the pairing attempt to finish.
If the pairing is successful, your remote will now be paired with your TV and ready for use.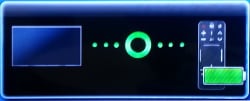 If pairing failed, your TV or your remote control may require service. Please contact our Samsung Call Centre for further assistance.